Review: Flashbax, Wilmington, NC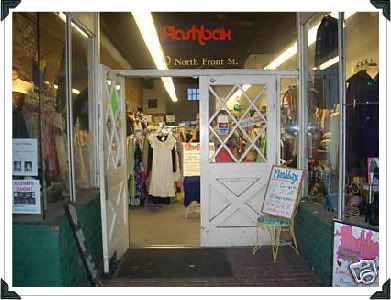 Yesterday I treated myself to a little shopping excursion with the objective being to find a clutch and some shoes for the
MC Ball
. My excursion lead me here, to 30 North Front Street in Wilmington, a vintage shop called Flashbax.
Before arriving at the shop I was a bit skeptical as to whether or not they'd have anything that was earlier than the 1960's or anything that I'd really want. I guess I was just judging by the name and previous vintage shopping experiences (the ones where the shop is entirely 80s garments) and I was glad to find many things from the 1940s and 50s.
The shop seemed to be well organized. The fellow's section in the back right hand corner, formal dresses in the left and racks full of ladies skirts, dresses, blouses and coats sprinkled through out the rest of the shop. Each garment is well marked with a price tag which also identifies the era the garment is suspected to be from, which is helpful, and the measurements of the garment as well. The store also boasts a decent sized sale rack with a wonderful 1940s day dress I might have to go back for (it was marked down to $15!) and numerous other items that have been generously marked down. The shop also has a number of accessories, shoes, handbags and the like, which would be wonderful additions to any outfit purchased there.
I must make mention of how nice historic Front and Market Streets are in Wilmington. Lots of other neat shops to visit, many with a selection of vintage clothing and unique items to browse through. What is really fantastic is the convenient and cheap parking that is always available here, makes shopping a lot more appealing when you don't have to pay an arm and a leg to park or carry your packages several blocks to your vehicle.
I've learned that nothing can be as inexpensive as my favorite shops at home or in Toronto, sometimes people just know what they have and price the items accordingly. This shop seems to have an idea as to the vintage gems it has in stock and most things I consider to be a bit pricey. I do believe however, if you are willing to dig through the racks you may find something really fabulous that has been over looked and thus underpriced. I have a feeling that the sale rack here is going to be my best friend.
This is my biggest complaint about this shop. When I entered I was greeted, points there, but then ignored while one off duty employee gabbed with the girl who was working about her drug use, her school work and the all nighters she had pulled this week. The girl who was working appeared to be miserably ill and the off duty girl appeared to be impeding her already difficult task of running the shop by talking her ear off. I suspect much of my dissatisfaction with this shop had to do with its staff, particularly the girls that were not working but just hanging around the shop. On the plus side, I won't have to worry about these girls snapping up all great 40s and 50s items that come in because firstly, the staff seem more fixated on mix and match 70s/60s inspired "indie" wardrobes and secondly, they are all a bit too large to fit in anything my size anyhow. Am I being a bit catty? Perhaps. But I had such high hopes for this shop, for perhaps finding people with similar interests as me. But as the gal behind the counter coughed all over my new clutch and the other girl droned incessantly about her adderall use and begging money from her parents to spend on booze, I realized that if I was going to find interesting people, it wasn't going to be here, it was college all over again.
Okay, so somewhere in my wild rant above you may have picked up on the fact that I did actually buy something at Flashbax. In fact, I got exactly what I was looking for, again vintage kismet at work!
I had gone in search for a beaded clutch that would match my gown for the MC Ball and this is what I found:
Perfect! I had looked at clutches just like this on Etsy but thought I could use this accessory as an excuse to check out vintage shops in Wilmington, and I was right! While it was a bit more that I would have liked to have paid, $25.00, it's in fantastic condition- not a bead out of place!
Perhaps you are nowhere near Wilmington, NC but in the mood to shop? Or maybe you are near by but don't want to deal with traffic or the shop's staff?
Here you can find shop info such as the odd hours it is open.