Review: Revlon Colorburst Lipstick
In March of 2009 I posted a little
review
on Besamé Cosmetics after buying a few lipsticks and a moisturizer from them. Since then I haven't used anything but Besamé Red lipstick; never have I received so many compliments on my lippy, it just seemed to suit me so well. After my trip to Western New York a few weeks ago I discovered, to my dismay, that I had lost my trusty tube of Besamé Red. It wasn't to be found anywhere and since I couldn't be without my lippy, I proceeded to buy another. Unfortunately Besamé no longer seems to sell their signature red and buying Besamé Red elsewhere would have cost approximately $30 with shipping. Needless to say, I cannot afford a $30 lipstick, no matter it's greatness.
So off to the drugstore, for the first time in nearly two years, to pick up a lipstick.
After standing in the cosmetics aisle for far too long, I settled on a simple black tube of Revlon lipstick labeled Colorburst True Red. Choosing a lipstick is difficult for me, often after purchasing I have opened the tube to find a glittery, shiny, off color product that I have no desire to use.
This time though, I chose well.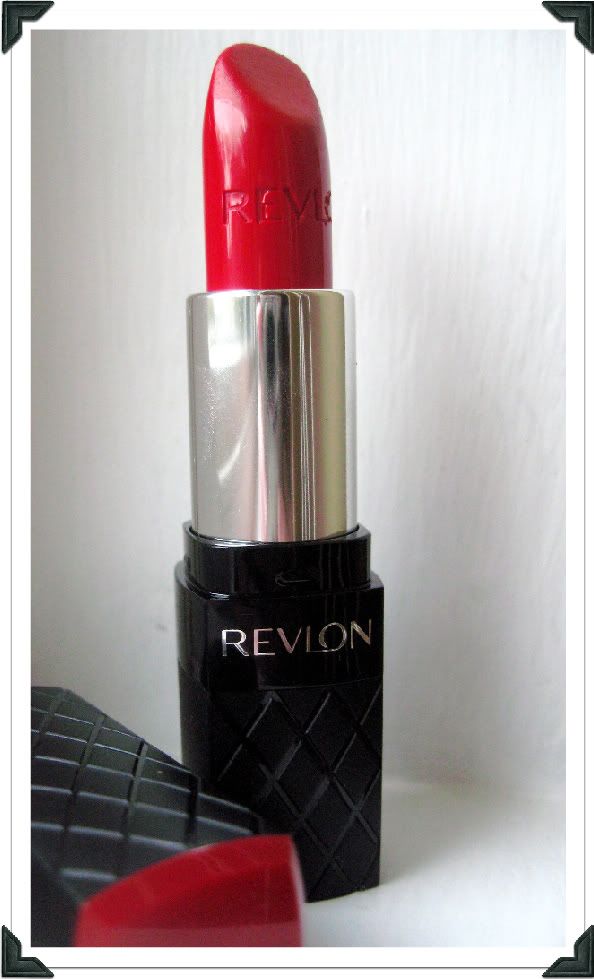 A nicely shaped lipstick in an interesting, semi-sophisticated tube
No glitter here, just a tube of semi-gloss/nearly matte, unscented lipstick in a neutral red color.
After applying I noted the lipstick was creamy and light-weight and deposited a moderate amount of color. Highly pigmented Besamé this certainly is not but it does well for under $10.
After application I find that blotting is absolutely necessary to make the lipstick less glossy- for me, when the lipstick is drier and less glossy it seems to last longer and transfer less to other objects such as cups, straws and boyfriends.
After several hours or after a meal I find I need to re-apply to enhance the color again, though let it be noted that the lipstick holds up well through cocktails, a cup of tea and some light, careful snacking.
The best feature of this lipstick is that it stays put, as in it doesn't bleed or feather like other Revlon lipsticks I've had in the past. This lipstick seems to be non drying and feels great while on.
All in all I'm pretty pleased with my purchase and while Revlon's Colorburst True Red will not replace Besamé Red as my signature lip color, it's a competent substitute in a sleek black tube.