235th Marine Corps Birthday Ball (Finally!!)
Well, it's almost been a week since the ball and I've finally been able to cobble together some photographs from my failing camera and from others that attended the ball to show to you, dear readers.
Let me catch you up if you haven't been following along.
Way back in October I
posted
about how I lucked into finding the most beautiful vintage gown and again last month I tucked a photograph of my clutch for the ball into a
review
about a vintage clothing store. This month too I've hidden posts into my daily blogging that have contributed to the construction of my "look" for the ball. There was the
upsweep post
, a look I decided not to go with, and of course the
faux eyelash post
, a look I couldn't go without. So, finally, without further ado, let's see how it all came together.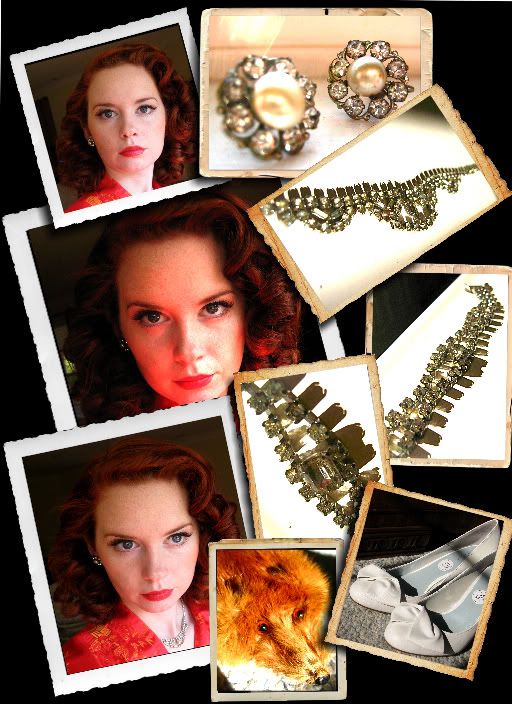 When I set my hair I had every intention of pulling it into an upsweep but when I began to brush it out, I just couldn't, I liked the looks of it too much! In the photographs I am wearing false eyelashes and I applied them according to the method outlined by the tutorial in my eyelash post, worked like a charm (thanks vintageortacky!). I am also wearing my
Revlon Colorburst lipstick
and my
Kryolan TV Paint Stick
which provided the exact amount of lasting coverage I wanted. On a side note, as a reminder to myself, there is such a thing as getting ready too early (two hours is excessive and results in a "wilted" look way too early in the evening).
Let's talk about the accessories:
At the top of my collage are the earrings that I wore, my favorite rhinestone and pearl screw-ons. I've worn these earrings to death and intended to wear some different ones, but these just looked better! The next photograph down is of the rhinestone necklace I wore which I purchased a few years ago at an antique market in Oxford, UK. Unfortunately, I think this may be the last event the necklace is worn to as it is starting to fall apart. The next two photographs are of the bracelet I wore to the ball, which was featured in my March 2009
birthday post
. The shoes were purchased from Payless for a ridiculous sum and were amazingly comfortable for cheap shoes. After seeing them online I knew they were the only shoes I wanted to wear with this dress as they were no fuss and had a vintage inspired bow on the toe. The last picture, the glass-eyed creature, is of the mink I wore. This mink is actually a series of minks, one biting the other, that is held around the shoulders by a clip in the lead minks mouth (I'm sure you've seen these before). Turns out people were quite creeped out by my mink, but I'm glad I wore it as it was at first quite chilly in the ballroom.
Let's talk about the evening:
Now, before the event I had done much reading on MC balls and had come to the conclusion that they were highly formal events steeped in tradition with long ceremonies and even longer speeches. While there were ceremonies and speeches and people were dressed up, this was nothing like I expected. It was, in fact, rather casual. The men and women Marines looked sharp in their dress blues (just look at my beau, hehe, hope he doesn't mind having his picture strewn about the internet), and most civilians, namely wives, looked nice in what could pass for cocktail or prom dresses. No one seemed to have gone to great lengths with their hair, make up or wardrobe but none of that really mattered anyhow, wish I had known that way back in September when I was stressing over a dress. After a pageant of historical uniforms, which my beau participated in, there was a video speech from the commandant, a speech from the colonel of the command and from a guest speaker, a veteran of the Vietnam war. Finally there was the cutting of the cake, a highly symbolic event where the youngest Marine is served a piece of cake by the oldest Marine in the command. After that things proceeded as a normal event, a buffet style dinner and dancing to some really miserable music, though I must note that seeing 20 or so Marines in dress blues doing the electric slide is quite amazing.
The night for me was more a learning experience than anything else. I spent a lot of time observing Marines interact and participate in their birthday celebration (everyone greeted each other with "happy birthday" and sailors with "happy belated birthday," it was really sweet). I also spent a lot of time alone or talking to the wait staff since my beau was participating in the ceremony and since I know very few people in the command. Dating a Marine is difficult for me as the social settings I am often thrown into are less than ideal for me. I'm finding many of the women Marines and spouses and girlfriends of the men are difficult to connect with and many of the men don't take anyone's "girl" seriously. Conversation is difficult, I often get blank stares and I'm sure I often give them- the military world and all its trappings is something very alien to me.
Despite the feeling of detachment, the evening was pleasant and filled with history, patriotism, and sixty some Marines so darned proud to be wearing those dress blues.
A few more photographs from the evening.
From left to right:
1st Row: Marine Corps Ball keepsake- a tumbler, the POW MIA table set for one,
my beau and I (wearing my mink).
2nd Row: The ceremony, the pageant featuring my beau in the USMC uniform from the war with Spain.
3rd row: A photograph for facebook, the USMC flag and emblem on candle, dress cover and gloves (not to be worn inside except for ceremony participants).
And so you can feel like you were there, and in honor of the Marine Corps birthday, celebrated this past Wednesday, The Marine Corps Hymn. Enjoy.