The Pink Blouse and birds
Well, after countless trips to the beach (which filled it with sand) and endless abuse, my camera is finally giving up, (hence the delay in posting MC Ball photographs). So, until I can fix my camera or until I purchase a new one, the camera on my mobile phone will have to do. Forgive me for the terrible photographs, but the blog must go on!
Yesterday's vintage garment was my favorite pink blouse which I paired with my modern brown jacket and my amber studded birdie pin. With this ensemble, and what you can't see, I wore my favorite denim Dockers trousers and a pair of soft, brown leather flats. I topped it all off with a sheer pink scarf which I tied around my head in headband fashion. All in all it was a very effortless and comfortable outfit that looked, in my opinion, quite swell.
This pink blouse is really wonderful and was yet another fantastic
Salamanca Antique Mall
find. Since the blouse nips in at the waist, it has a really lovely shape to it. It looks especially wonderful when tucked into a high waisted pair of pants or a skirt but it also looks all right left untucked especially under a nice sweater or jacket. The blouse also features simple ceramic buttons, a tie neckline, which is darling, and a charming cut out flower design on the chest, which I've tried to photograph the design for you below.
The jacket I wore over the blouse was a Christmas gift from my mother a number of years ago. When I received the jacket I wasn't really a fan of it but now it satisfies my need for a lightweight fall coat and actually, I've come to really like how it looks on me. I really like how the birdie pin looks on the jacket, very season appropriate.
I picked up this pin in the most wonderful shop in historical
Angelica, New York
on a shopping trip with my mother a few years ago. The front room of this shop is filled, top to bottom, with vintage costume jewelry at absurdly low prices while the rest of the shop is filled with other vintage goodies and notions for the home. There were in fact two identical birdie pins that had been displayed separately in the shop and it was only after we left that my mother and I realized we had purchased the same pin.
I wore this outfit yesterday to do some junk shopping as I was on a mission to find an inexpensive, yet sturdy, table to put my house plants on. My mission was completed at The Basement in Jacksonville, NC where I not only found a table but a wonderful piece of carnival chalk. For only 4 dollars I of course had to take the chalk bird home, especially since he was in Jacksonville and I might be the only one around that would really appreciate him.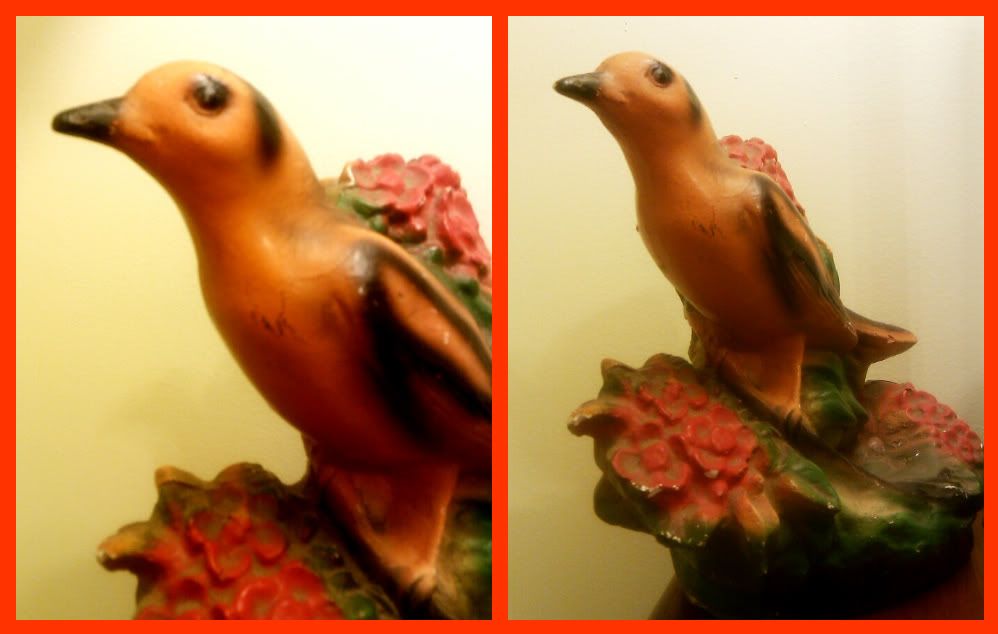 In desperate need of cleaning, but lovely none the less.