Hair: Style Trial Two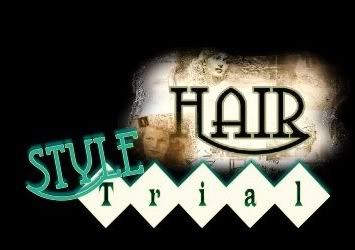 I wasn't really searching for a new hairstyle but when this image showed up in my blog updates, I just couldn't rest clicking it. And after viewing this beautiful hairstyle, I just couldn't resist trying it.
The idea is simple, pulling the hair to one side and pinning it up, but the results are oh so sophisticated.
This is why it baffles me to see people out in public with their hair a mess.....oh well, that's a rant for another time.
I found this idea to be so incredibly versatile, I've followed the directions outlined by the photographs and I've also styled this farther back, directly at the back of my head, with the side sweeping forelock and without, why I never thought of styling my hair like this before is beyond me.
I've found what works best for me is to set my hair with hot rollers before styling it, it adds the necessary curl and smoothness to make this style work. I've also discovered that the different layers in my hair prevent a smooth sweep across the back of my head. Instead I twist the hair along the nape of my neck to ensure none of the shorter layers escape.
Believe it or not, this is a hairdo I achieved by following similar ideas as one outlined in the photo tutorial above. The difference being that I added height in front and tucked the entirety of the chignon behind my ear. This style was done very quickly but served my need for a no fuss style for a morning of running errands.
Here are some not so great cell phone photographs of the same principle styled differently.
Pros:
-Versatile style with endless possibilities
-Long lasting if you secure the style with plenty of bobby pins
-Simple yet timeless
-Quick
Cons:
You may never style your hair a different way again!
Because of it's simplicity and it's ability to get me in and out and on the go with a lovely do, I'm giving this style five out of five bobby pins.