Home Sweet Apartment: Before and After III
As I mentioned in my last post, I spent Thanksgiving at my cozy apartment in Western New York state. My apartment is one of the things I miss most about home, I suppose that's because I put so much of myself into the apartment while remodeling it just feels like home in a way the house here in North Carolina does not.
While visiting, I realized that I never shared all of the redecorating I did in the apartment as I had planned to. About a year ago I began the arduous process of making this space my own which involved painting, re-wallpapering, and putting down new flooring. I've posted some of my remodeling, in January I shared the changes in the
hall
and in February, the
bathroom
and now, a ridiculous ten months later, I'd like to show you the changes in the kitchen.
This is the kitchen before. The only word that comes to mind to describe this space is "blah."
This space was dark and dull and in need of a change.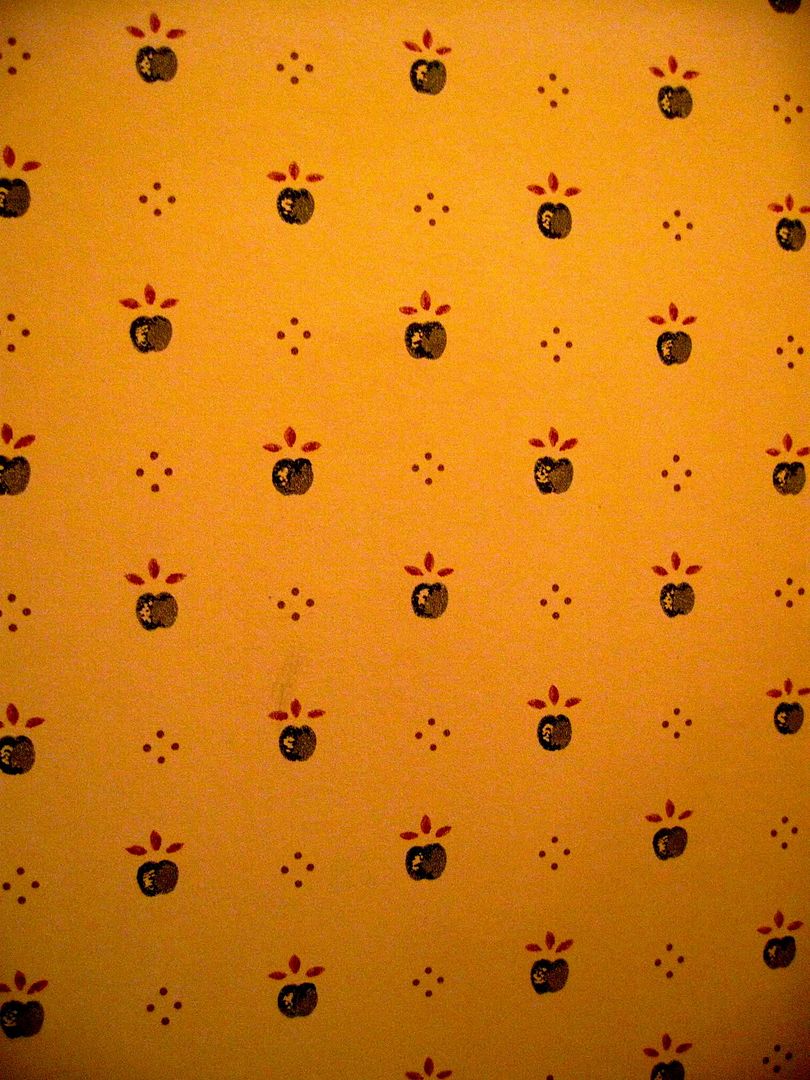 The wallpaper was the same as that in the hall, tiny apples, which is not my taste at all. The wallpaper was also damaged around the sink, due to the lack of backsplash, so there was no doubt that the paper needed to be changed.
Let it be stated, if it hasn't been before, I HATE wallpaper, I utterly loathe the process of wallpapering and the process of removing it, it's terrible stuff. But I have to say that even after a year, I still adore the wallpaper I found for the kitchen. After looking through countless wallpaper books at the local Lowe's I finally broke down and went to
Eade's Wallpaper
in Olean, NY. This style of paper, boomerangs and sputniks, was discontinued but Eade's was able to find some and sent a few rolls my way, such excellent service!
This is the corner of the kitchen where the microwave was in the before photograph. New wallpaper, simple under cabinet lighting, painted switch plates and a wonderful bread box from Etsy have transformed this space.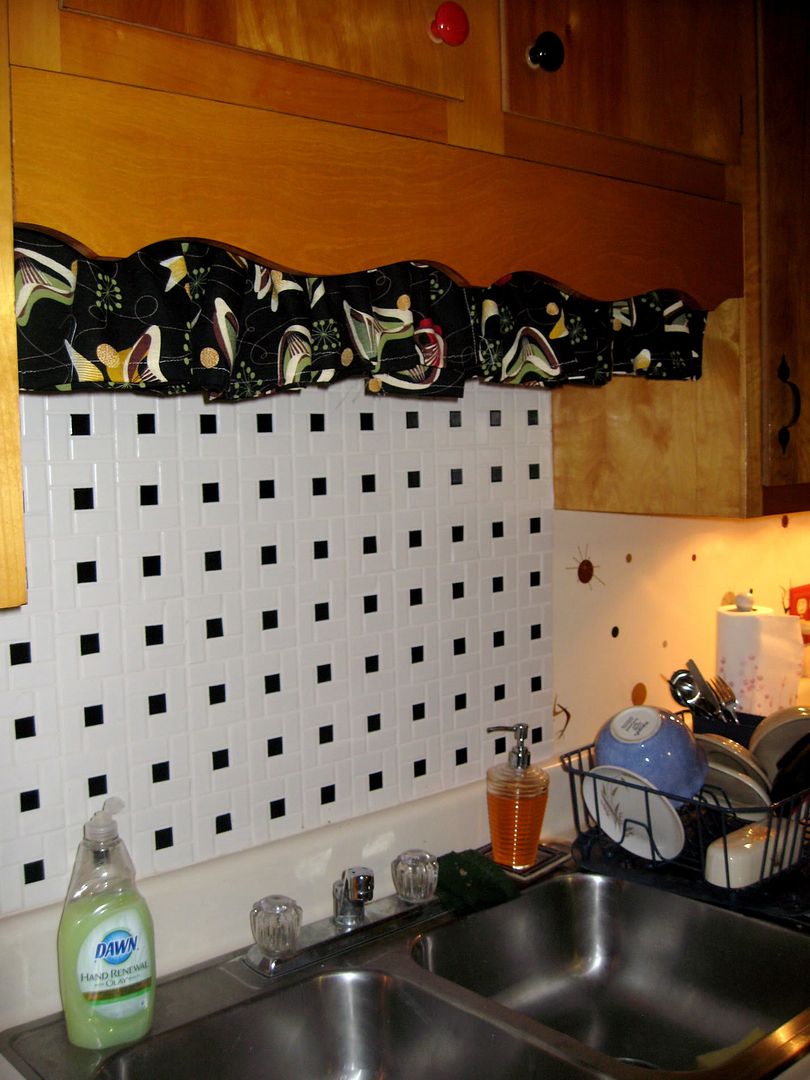 This after photograph shows the changes I made around the sink to prevent damaging the wallpaper with splash from the sink. Simple tile sheets from Lowe's were placed behind the sink and had my budget not prevented me, I would have liked to have put a proper backsplash along the entire wall, backsplashes just make sense in a kitchen, especially with a messy cook like me.
As an extra, rather unnecessary touch, I added a valence above the sink which I made out of a wonderful reproduction barkcloth fabric.
I purchased this wonderful fabric from a great site called
Tonic Living
, they have amazing stuff! Don't let the fact they ship from Canada scare you off, they are well worth it especially if you're remodeling.
Something I didn't show you in the before was the great stove/oven that was in the apartment when I moved in.
There are actually 2 ovens here, an small upper and a large lower, so convenient for making Thanksgiving dinner! This is certainly a retro appliance, even though it's not my kind of retro, it still fits in better than something ultra modern. It's my favorite feature of this kitchen.
I'm so proud of what was accomplished in the apartment and I owe so much to my parents who helped me with this overhaul, they spent time they didn't have around the holiday season remodeling this space just because I wanted it to look different. Sometimes I can't justify putting money into a place that is entirely livable just because I'd prefer it to look a certain way but then I look at what we accomplished here and see what a few changes can do to the feeling of a place and what a few changes can do to make a space into your own.....sometimes esthetic changes are entirely worth it.