Project: A Troublesome Table
...........................................
Don't forget about my
Grateful Giveaway
, only 6.5 hours left to enter! Winner announced tomorrow.
...........................................
About a month ago I realized I was going to need a table for my plants to go on in the house as it was getting too chilly at night for some to stay outside. When I realized this I headed into thrift shops in Jacksonville in search of something suitable and cheap. I stumbled on a little black pedestal table that had been painted, very poorly, black and gold and despite it's bad paint job I saw potential and a project. At $17.00, I thought I could afford putting a little elbow grease into this piece.
Sure, it looks fine in this picture, but I assure you, it was in no way fine.
In fact it still looked tacky to touch because the paint had cured improperly.
Well, it turns out this table needed a bit more than elbow grease. The reason why the paint looked so bad was because the entire table had been painted gold with an oil based paint before it was painted black with a latex paint. I should have seen the bubbly texture of the paint and known exactly what was going on, but alas, I was so excited about a good deal and a project I couldn't see exactly what was going on.
So to cut through the layers and varieties of paint I used chemical paint stripper and after going through a whole quart, I had barely made a dent in the piece. It turns out that below the black and gold paint was an additional layer of white, with lime green and hot pink polka dots. No wonder the black paint looked so bad, it had numerous layers of various paints under it!
Sanding away
After watching me struggle with the piece, my boyfriend decided he'd intervene and buy me a power hand sander and boy, I'm glad he did. Even with the sander, reducing the table to bare wood took lots of time and various grains of sand paper, but finally I managed to get it back to it's natural state. On the way there though I caught glimpses of what this table once looked like. Once upon a time it had a lovely cherry stain and had four legs! Who would of guess my poorly painted black pedestal table was once a lovely cherry table on all fours!
In the nude
Funny thing about this table, as soon as I got it naked, I turned it black once again. Seems a silly thing to do, strip a table down so only to make it look just as it did before, but it had to be done! You see, I decided to treat this table better than the cheap piece of pine it is and better than its last owners did, I decided to give it a nice coat of stain and let that lovely grain show through.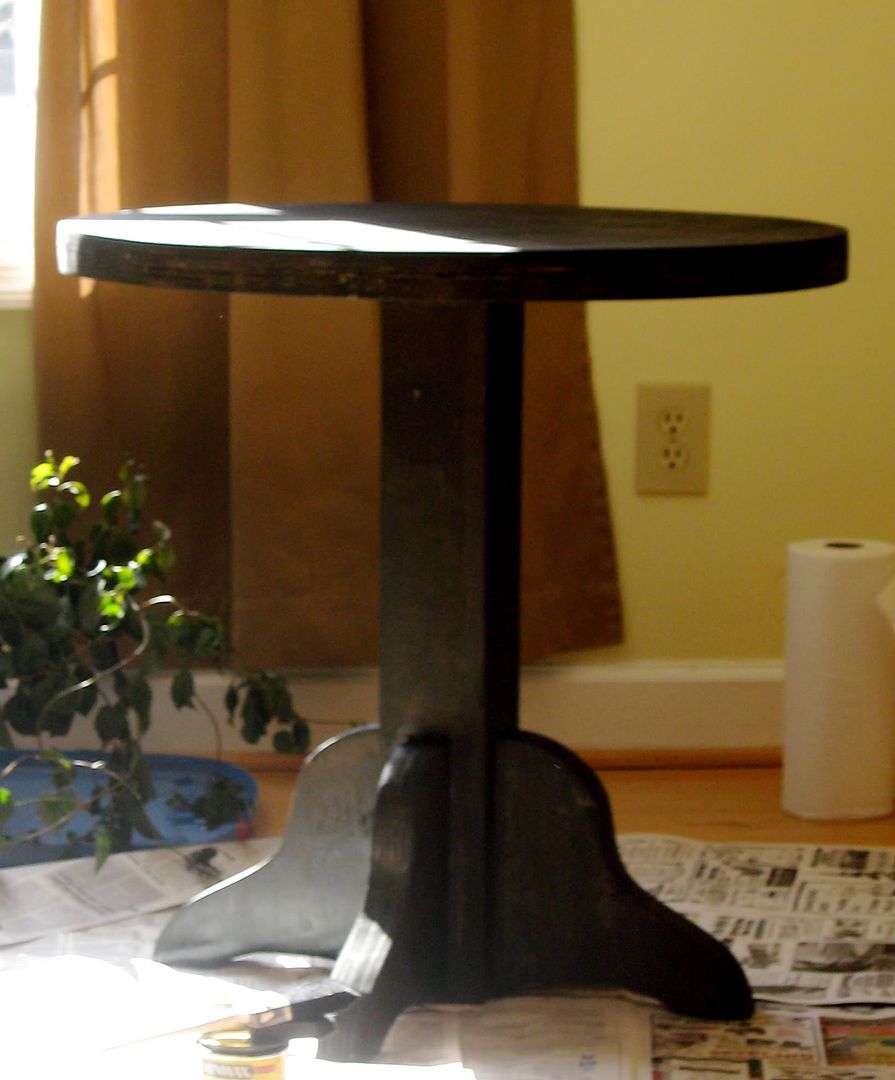 Of course, pine absorbs stain like crazy so after two coats of ebony the table was devoid of any grain at all, such a rookie mistake on my part. So out the the drive way again to lightly sand and then back into the house for a coat of urethane as it's too chilly outside to apply any sort of coating and expect it to dry properly.
After sanding it down and applying finish, the wood came to life and I was quite pleased with the unique looking results.
I was even more pleased 24 hours later, after the finish cured, when my plants finally had a suitable spot to sit in front of the window.
It was a long and frustrating project but it yielded a piece of functional, decent looking furniture. This project taught me a lot, namely to never put layers and layers of paint on anything and also to never look at something as a quick fix. It might not be the highest quality piece of furniture or the most expertly refinished but, hey, it holds my plants.