Mermaid Curls
Yep, it's my third mermaid post in under a week and methinks any readers I have left aren't too excited about this.....sorry! It's a passing obsession, I promise!
Since deciding to stop setting my hair for daily wear, I haven't really posted much. I've been feeling a bit weird about posting, like I just can't cut it if I'm not styled in 100% vintage (or near to it), like I'm letting folks down. I've also been pondering where this blog is headed and whether or not to keep at it- I suppose I've been having some sort of an identity crisis.....all over some hair! Anyhow, I guess I'll keep at it for now, after all- this blog was never for anyone but me---- readers are just a wonderful perk!!
I now return you to your regularly scheduled post.....
borrowed from See Creatures, do yourself a favor and visit this blog
During the winter I stumbled on this
lovely tutorial
on how to create "the perfect mermaid curls". I'm not sure what it was about this tutorial, perhaps the beautiful gal, the beautiful hair or the beautiful blog, but my mind wandered to this post time and time again. Finally I decided I had to give it a go.
I'm still in pursuit of the "perfect" mermaid curl, but I think I'm getting somewhere.
My routine is simple: shower, apply product, let hair dry (usually over night), use curling iron to add a few "mermaid" curls. Unlike the tutorial says, I do not brush my hair out, in fact I haven't used a brush on my hair in months- it's bad for curly hair so I've discovered! I like to rely more on my natural texture than the tutorial allows, mostly because I have no desire to spend so much time with a curling iron in my hand- I might as well set at that point! Plus, the more natural I allow my hair to be the less disappointed I am when the humidity gets at it.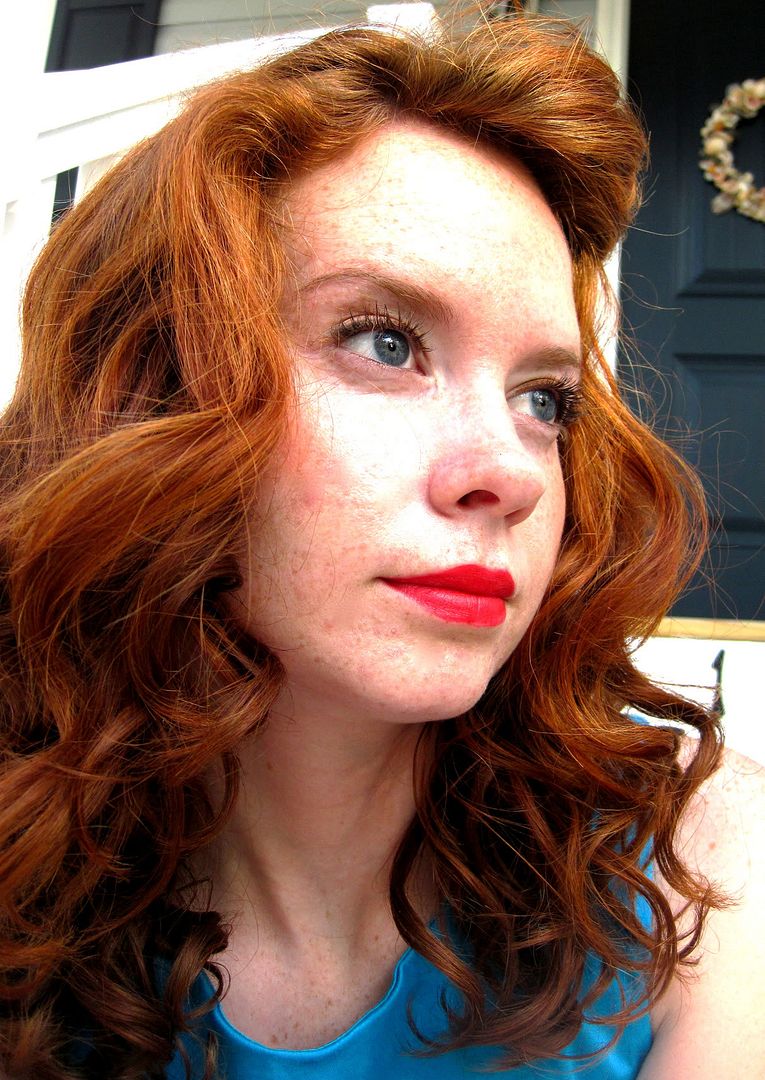 It's not by any means a vintage look, but I think it's pretty (though a little ordinary).
I'm impatiently waiting for my hair to grow, I've always liked my curly hair when it was longer- plus long hair is much more mermaid-y :)