Mermaid's Toenails and Other Sea Treasures
I've stressed in past posts that I love to beach comb and it has been so lovely to be able to do so at my leisure for the last year. The problem with collecting anything, especially something as readily available as shells, is finding what to do with the collection. For my shell collection, which has now become ridiculously large, it has found a place in my crafts. Last August I posted about a
shell wreath
I made and posted on Etsy, it never sold but that didn't stop me from making more shell creations and with practice, my creations have slightly improved!
My newest project is made of what is commonly know as mermaid's toenails- thin, luminous shells that come in shades of pearl, silver, copper/orange and sometimes a wonderful deep blue/black. I can't resist picking up these delicate little shells and after a bit of picking I had amassed hundreds- so I made this mirror which is now for sale on Etsy (hopefully it does better there than my last project). You can visit the Etsy listing for this project by clicking on "The Sea on Etsy" tab at the top of this page!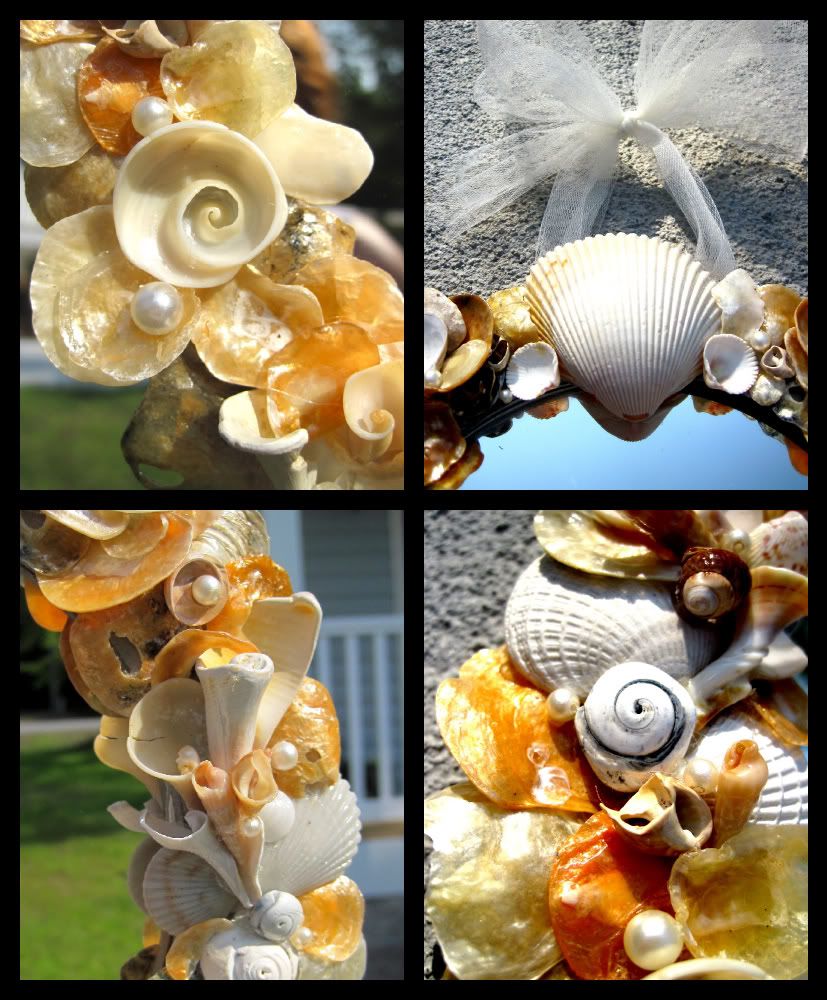 Another project I've made from my beach findings is a wreath for the front door of our new house. It is by far the largest wreath I had ever made and boy was it heavy when I finished. I actually had to restart it after it smashed to the ground while in the preliminary building stages- its hanger was not sturdy enough to handle it's immense weight.
All my effort was really worth it- I love how this wreath turned out!
You can see the wreath from the street and it looks fantastic with the color of the house and the front door, it really makes things pop!
Seashells come in so many wonderful shapes and colors!
Another one of my creations went to my grandmother for a Christmas present. At the time I thought I was something really special and I suppose it is considering most of these shells were picked when it was absolutely freezing outside!
It's less complicated than the other wreaths, more symmetrical and very flat- I suppose that's the part I don't like about it. Something to keep in mind for future projects I suppose.
I've found many other things to cover in shells for future projects: little treasure boxes, picture frames, ornamental hearts, and since my beau is gone for a month on business I have nothing but time to stick shells to things, which is good because I have a huge pile of shells that needs to be taken care of.
(and if you're thinking I'm crazy right now, you might be right- I really need a job)