The Auction
Last month I waxed nostalgic in my
Happy June post
about the community market in Springville, New York. While in New York I was able to make a visit to Gentner's Market, "the auction" as we fondly refer to it, with my mother and her friend. Since I was flying back to North Carolina and had limited space for goodies, and as usual, was flat broke, I spent my time browsing and photographing.
Here are some of the highlights of the morning I spent at the auction:
Top left: A pile of cages that animals are brought in. Animals are auctioned off in the afternoon.
Top right: Gentner's big red barn, where the animals are housed until auction time.

Bottom left: An adorable robot for sale on the hill (the hill is like a flea market).
Bottom right: Awesome vintage children's toy. I'd love to have a piece like this for a vintage circus themed nursery (years from now of course).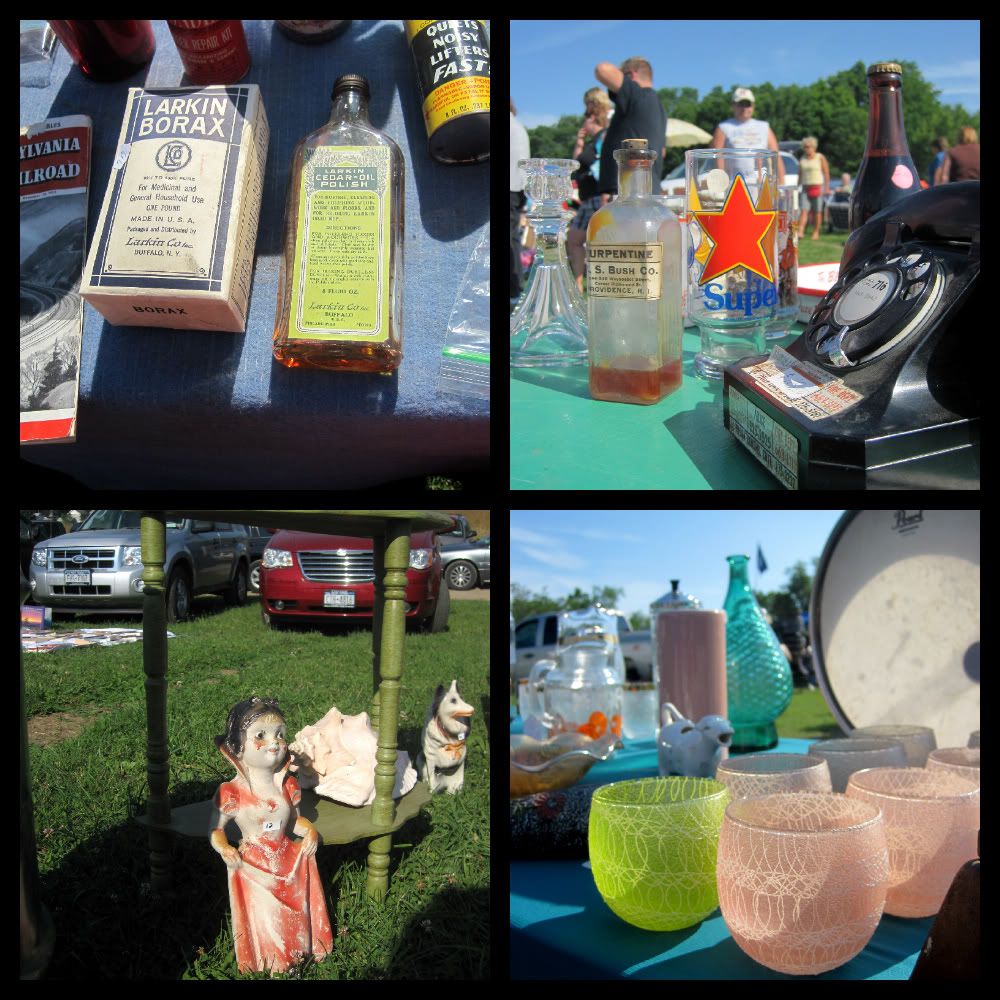 Top left: Vintage products from the Larkin Company, relics of Buffalo's booming industrial age.
Top right: great old rotary dial telephone and a nifty bottle of turpentine.
Bottom left: Chalkware!!! Is that snow white?
Bottom right: Fantastic glassware at this booth. Not only were these glasses cool but check little creamer cow and blue bottle in the background!
Top left: Another shot of the big red barn.
Top right: A goat waiting for auction.
Bottom left: A sampling of produce for sale. The cherries were delicious and so was the cheese curd we bought!
Bottom right: Believe it or not these are chickens (in a rabbit cage).
They are called "Silkies" and have fabulous feather headdresses on!
They, like the goat in the picture above, are waiting to be sold at auction.
(I raised this variety of chickens as a child and loved them.....I'm still such a farm girl at heart).
What a fantastic morning we had at the auction! Oh how I missed the sights and sounds (and tastes!) of Gentner's! I have yet to find anything like it here in North Carolina but I'm sure enjoying the search.

Hope everyone is having a fantastic weekend!