Fashionable Visiting Cards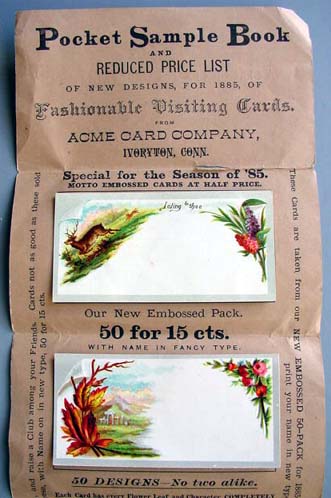 image found here

"Visitors should furnish themselves with cards. Gentlemen ought simply to put their cards into their pocket, but ladies may carry them in a small elegant portfolio, called a card-case. This they can hold in their hand and it will contribute essentially (with an elegant handkerchief of embroidered cambric) to give an air of good taste." -Decorum
, 1877
The custom of carrying calling cards originated in France in the early 1800s and quickly spread to the United States becoming widely popular in New England late in the century. Cards were carried by the well-to-do, ladies and gentlemen alike, were left when making social calls, and often placed in an ornate card receiver that adorned the entries of any respectable home.
card receiver
There was a certain etiquette to leaving a cards. The number of cards left, the type of card left and the way the corner of the card was folded was significant and sent a message beyond the fact that you had visited. Cards were left, regardless of whether the visitor had been received by the homeowner or not, as a "
gentle reminder of one's presence
."
With time and increasing popularity, calling cards became more decorative, more ornate and really a wonder to behold. Here are some of my favorite cards I've found lurking about the internet.
a lovely seashell motif decorates Arthur's card
simple kitty cards
Clever acquaintance cards that young men would give to prospective dates.
The devil cards are quite slick!
A fringed, hidden name card in the shape of a fan.
The name is concealed behind the birds.
Eventually and unfortunately, calling cards were phased out in favor of penny post cards at the turn of the 20th century.
How sad! What a neat custom this was and how much easier it would be to remember names! And wouldn't it be glamorous to have a lovely card with your name on it to give to anyone who inquires?!
If you're itching to have a card with your name on it and bring this sophisticated trend back, don't worry, Etsy has you covered!
Check out these lovely vintage inspired calling cards from
GoGoSnap
.
Beautiful right?!
Imagine introducing yourself with one of these, or leaving a perfume scented card with a prospective lover you've just enchanted with your wit and beauty.