Hometown Haul
I never thought I'd be so happy to come back to the coast, trips up north have become so exhausting. Life in North Carolina is so calm and relaxed- just as life at the beach should be. With so little time and so much to do, visits to Western New York are exactly the opposite of my coastal life- rushed and chaotic.
Things this trip were made worse by the fact that everyone in my extended family has gone nuts! Seems they've all caught wedding/baby fever and just can't stop talking about "when I get married" or "when we have a baby," scenarios that I haven't thought much about myself let alone shared with my family. I suppose I should be happy that my family is so excited about such commitments and that they like my beau so much but weddings and babies scare the bejeezus out of me!
Despite all the chaos and family insanity, I did manage to visit my favorite hometown antique store and junk barn and somehow, through the magic packing skills of my beau, I was not only able to bring all my finds with me but we even had room for my Christmas decor, items for Etsy and Ebay and even a little something for a blog give away (stay tuned)!
So, with out further ado, here are some goodies from my hometown shopping spree:
I've been wanting to make an
ornament wreath
for our front door but lacked the interesting vintage ornaments to do so. When I saw these glittery ornaments, my mind suddenly conjured images of a funky, non-traditional Christmas wreath- perfect for our snowless beachside holiday.
I'll be sure to post pictures of the wreath when I finish it!
I also managed to find some sea related items including a 70s seahorse Avon bottle, a tiny shell planter and a nifty bouquet made from painted seashells (must find more like this!). All of these items with find a home in my
beach themed reading room
(still a work in progress).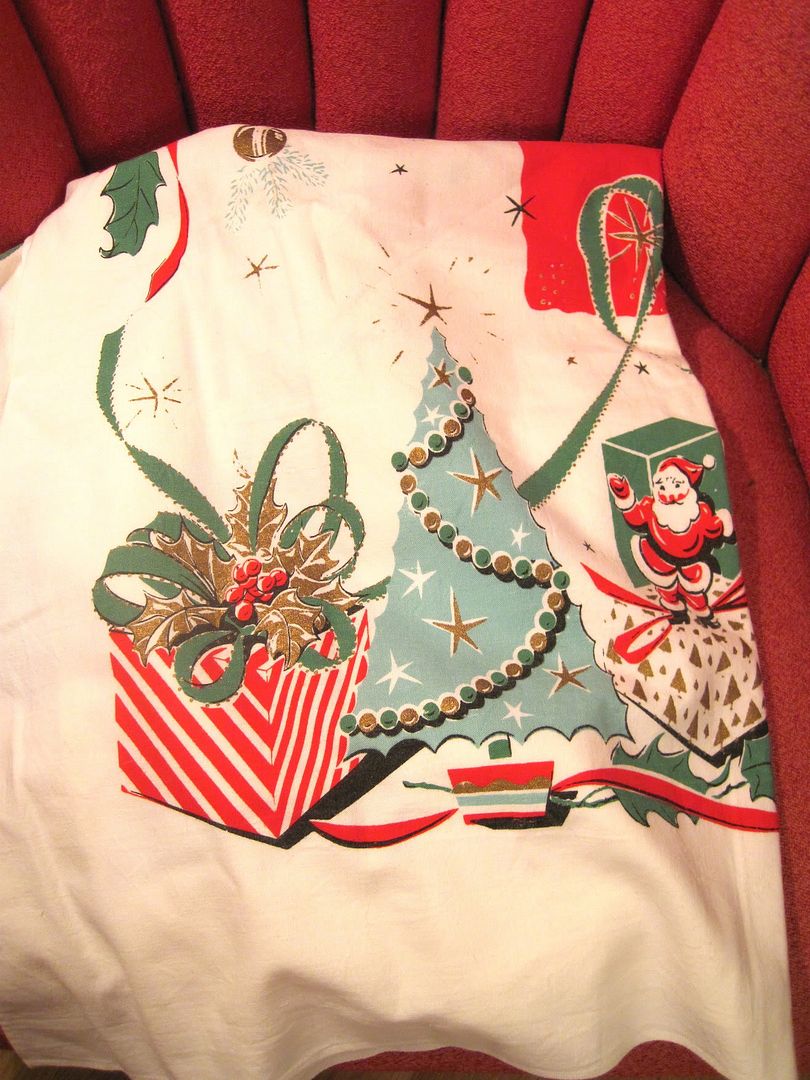 This lovely Christmas table cloth is something my mom surprised me with, aren't I lucky?! All I had to do was mention that I was searching for a holiday table cloth and she was on it, scouring Etsy for something wonderful- which she found!!!
This table cloth has some awesome teal accents which I love and it's the perfect size for our little breakfast table! I can't wait to use it but I refuse to decorate before December 1st.
My last find was an utter steal, unfortunately it didn't photograph very well.
yes, we have flannel fish sheets- aren't they cute?
This red dress was hanging in my favorite antique store when I was there in October and when I went back on Saturday, a month later, it was still there! In fact, before I could even get inside the store the ladies at the counter informed me that I had to buy it! Since everything in the store was 20% off, this dress was less than twenty dollars AND it fit! So, needless to say, I bought it.
Even better, we are actually attending a holiday party this year so I actually have a place to wear this lovely frock! I've promised the ladies at the shop where I purchased this dress that I'd send them a picture of me wearing it (as they requested) so, for once, you might actually get to see me wearing this dress!
And finally, Sam had his own hometown haul including this awesome nautical looking rope and many other toys he stole from my mom's dog or picked out at the family business. I'm pretty sure he thought he had gone to heaven when he laid eyes on the piles of dog toys and treats that fill the aisles of the family feed store.
Sam is happy to be home, too!
I loved this picture, just had to share.
I cannot believe December is just days away! I can't wait to start getting the house ready for Christmas, this will be the first year I haven't gone to WNY to celebrate and boy am I excited to decorate and celebrate in my own home!!!