Old School
Yesterday I picked up a last minute sub job at a school forty-five minutes away from the house. In a hurry, I just started grabbing things from the closet hoping somehow an outfit would fall together. One item I grabbed was a cropped jacket from Mrs. Bolton.
I try to incorporate vintage pieces into my teaching wardrobe- kids seem to respond well to it and it tends to look professional, plus, it's a large part of my regular wardrobe.
Yesterday, I had a sixth grader ask me "where does one find clothes like that?," he went on to tell me that he'd never seen anyone dressed like me and he liked my glasses. Students are generally kind and curious about my relatively archaic appearance- I get a lot of "you look like an old fashioned teacher" or " you look like someone from the movies," both comments I choose to take as a compliments.
This jacket is just so sweet.
Green, yellow, black and white diamonds with black velvet trim.
Terrible pictures, the light in the house is just awful. I had intended on taking pictures outside but, while the weather at school was a lovely 85 degrees and sunny, when I got back to the coast it was 72 and incredibly foggy- it was like living in a cloud.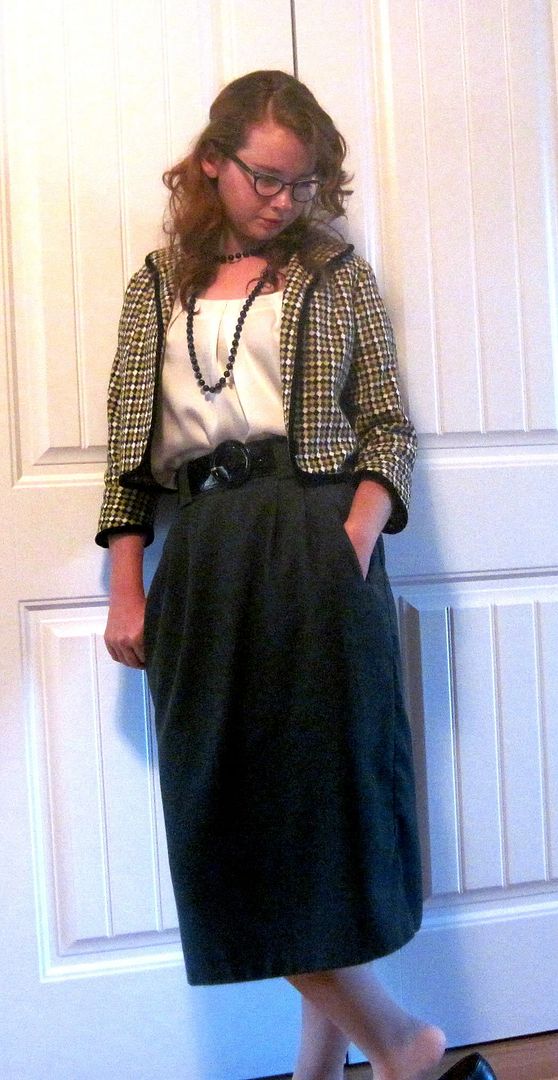 Belt- stolen off another dress
Skirt- thrifted