St. Patrick's Day Dress
Hello and a happy belated St. Patrick's Day to you all, dear readers! I hope those of you that celebrated had a lovely day yesterday- I know I sure did. There is nothing like good weather and a lovely dress to make a girl feel swell, of course it always helps when everyone else is in a festive mood too!!
A couple weeks ago I spotted the most adorable Vicky Vaughn dress on Ebay; it looked to be so light weight and such a lovely shade of blue, a perfect summer dress!

It also had fantastic flowers with button centers that made the dress even more adorable!! Unfortunately the dress only measured twelve inches across the waist (24" around) which is just too small for me :(

Well, size didn't stop me and I bid on the dress anyhow, and you know what? I WON!
This is the first dress I've ever won on Ebay, and I got it for a song. At that price I figured, if it didn't fit I'd put it up on Etsy and make my money back no problem.
Well, it came and it fit!
I've lost so much weight recently that, while I may have lost my womanly curves, I can now wear lovely itty-bitty dresses like this one!
And, when it came, it looked more green than blue and thus, it became my St. Patrick's Day dress!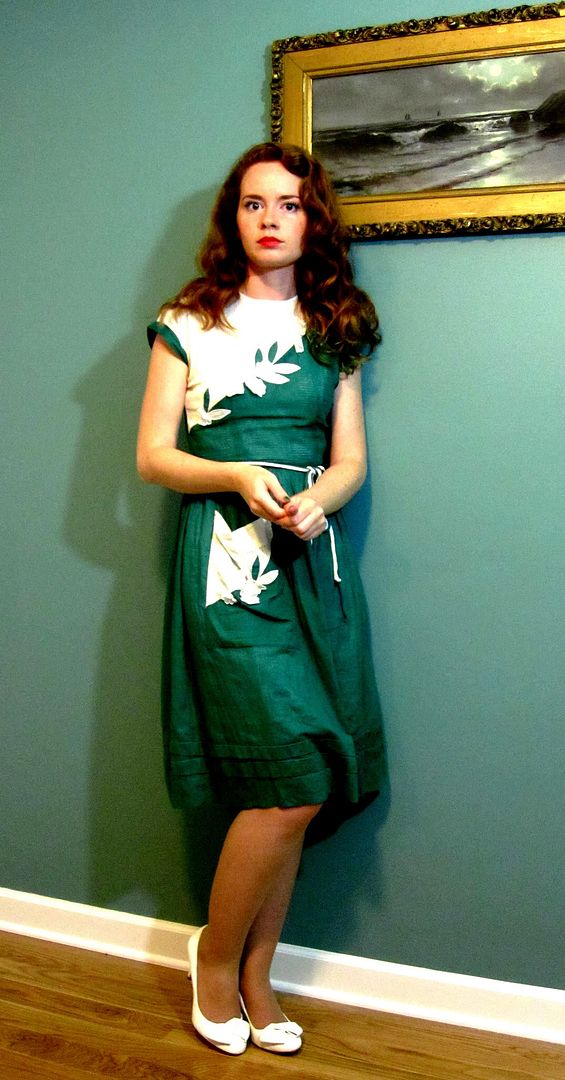 Going out, St. Patrick's Night.
Well, I guess it still photographs as blue but it sure looks like green in person!
St. Patrick's morning
We spent the morning at an auction and then we traveled to Wilmington, NC, to enjoy the sunshine on the historic streets of the little city, which, to my delight, were full of green-clad revelers. We wrapped up the night with a hearty pint of Guinness at a watering hole close to home.
It truly was a wonderful day and a great way to spend my birthday eve!
Today, to celebrate my 25th, we purchased and planted several trees and shrubs which has been wonderful! I guess you know you're really getting old when gardening passes as celebrating :)