SET in my ways
Two weeks after the big chop and I'm still loving
my short hair
! Now, there is no way I would ever put my hair through what my stylist did to it after the cut (that was a 30 minute process that can certainly be considered hair torture) especially since there is so much humidity to contend with here (step outside for a bit and it'd be a mess!).
So, I'm back to setting, and boy does it feel good!
I haven't gotten back into the swing of pincurls- my fingers seem to have forgotten how, but I'm loving rollers.

Here's a couple recent sets:
Foam Rollers- fresh set
I find foam rollers so quick and easy but my technique is still a little rusty. Right now I'm going through a period of trial and error trying to figure out what size rollers do the best in certain parts of my hair.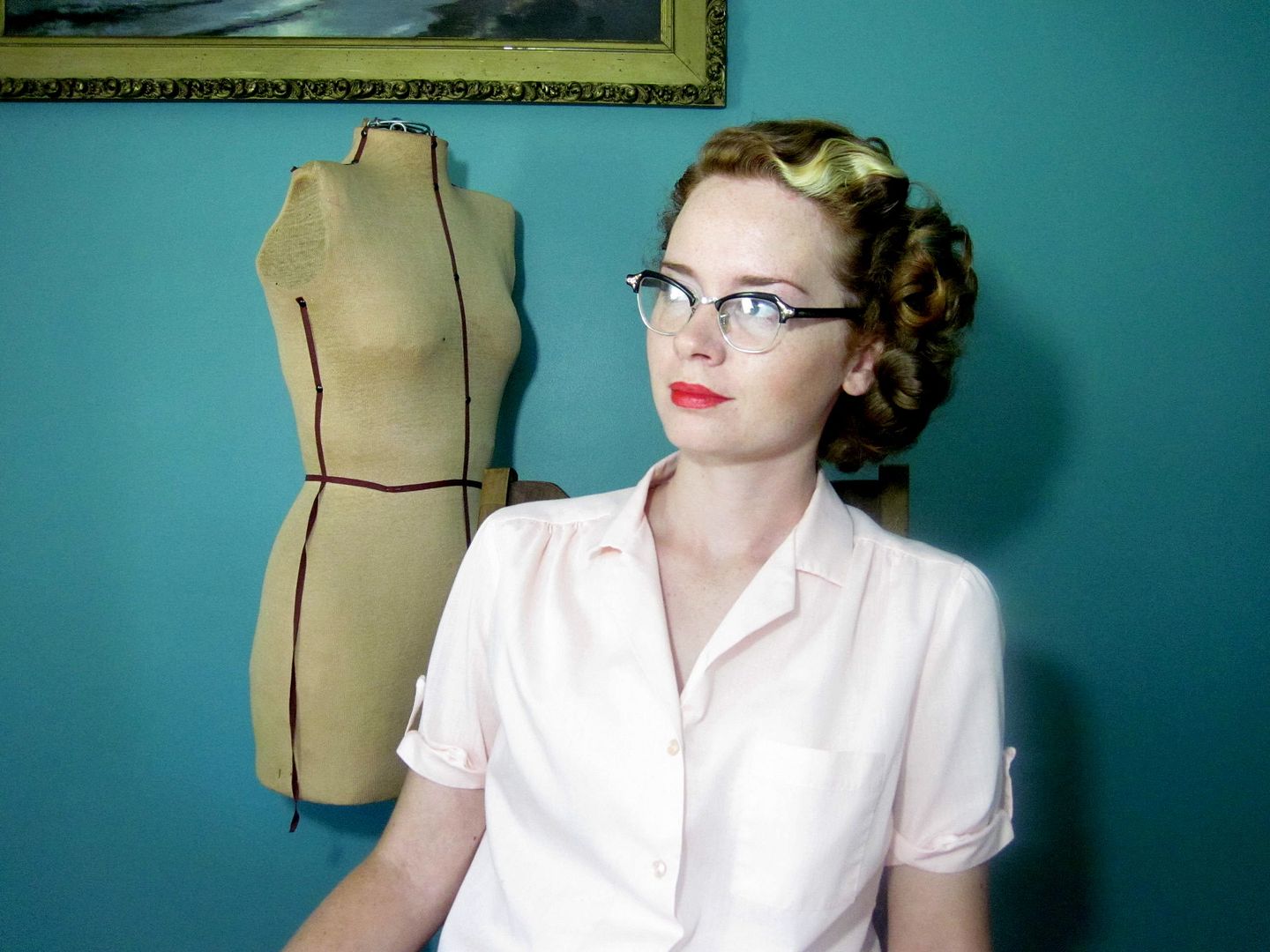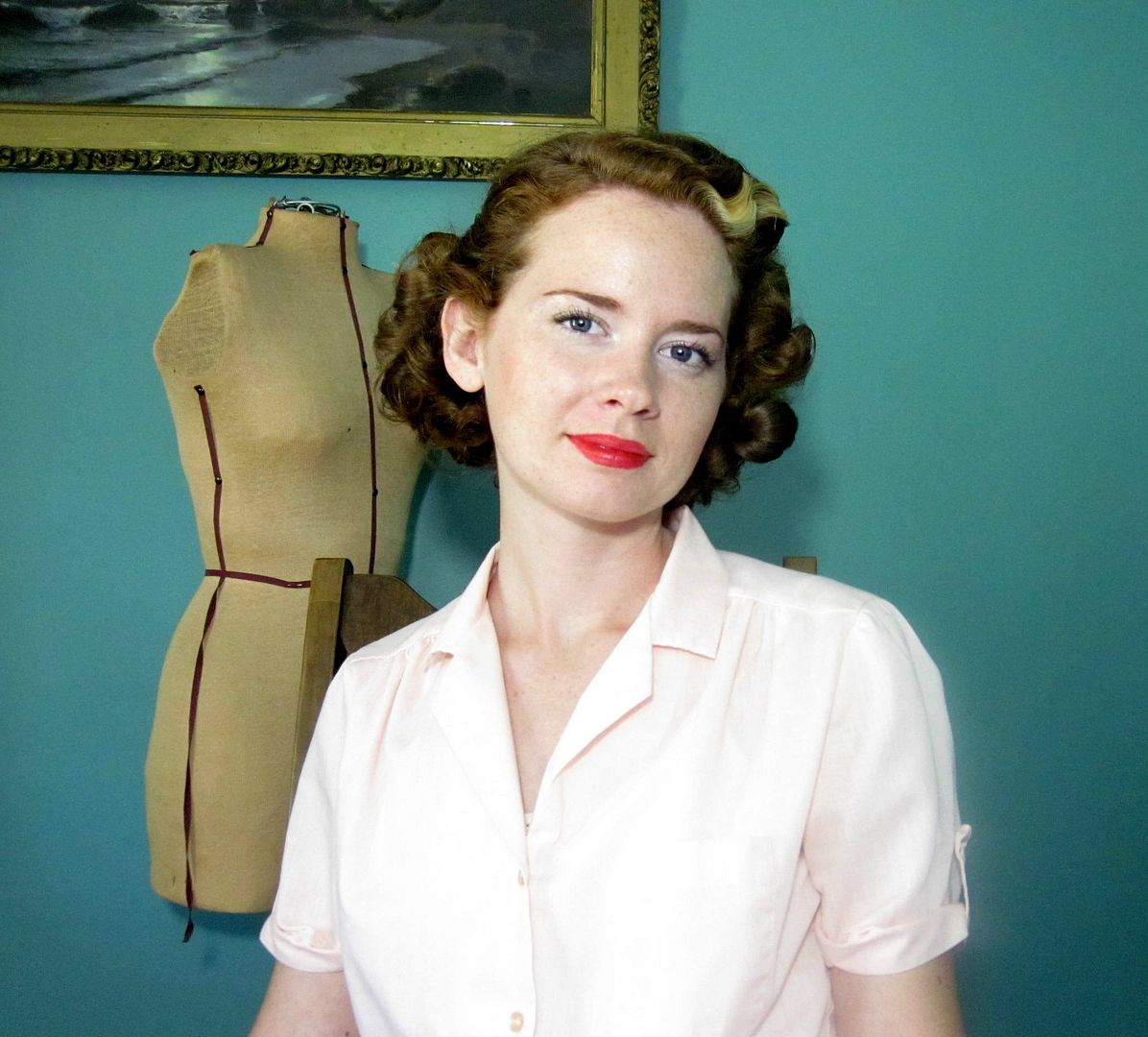 I've temporarily run out of contacts so I've been wearing
my glasses
a lot lately-
it's weird to see myself without them!
I found a "new" pair at an antique shop that I'm kicking myself for not buying....perhaps I'll go back for them!
Hot Rollers
I'm finding that my set of hot rollers are mostly too big for the styles I have in mind, but I've been experimenting with them nonetheless. I like to use hot rollers on days I'm planning to wash my hair and reset in the evening.
I was feeling a little Hitchcock-esque and decided to take a picture in profile- something I rarely do.
I actually really like how this set looks from the side!
I've also discovered some new products that I'm kind of loving right now and thought I'd shamelessly plug since I'm wearing them in the photographs above (this is in no way hair related).
Thanks to my wonderful dermatologist and some fantastic antibiotics and creams, I've got my terrible skin under control (first time since the age of 10, wooohooo!). It's so under control, in fact, I can now wear light coverage foundation and tinted moisturizer.
I hate putting tons of product on my skin, especially during the summer, so I decided to try Garnier's BB cream which I felt could be that all encompassing product I had been looking for (one skin cream to rule them all!). I requested a free sample (a miniscule speck of product) which came with a coupon, so I decided to throw caution to the wind and buy the full size product to really try it out.
I'm glad I did! It feels quite nice going on, absorbs well and really evens things out. And, I've convinced myself that it's actually improving my skin! I do tend to get a bit oily with it but a little powder and occasional blotting keep that in check. If you have very oily skin or are sensitive to fragrance (the product is
very
scented- pleasantly so in my opinion), I'd advise you to stay away from this one.
Also in trying to simplify my summer beauty routine, I picked up Revlon's Just Bitten Lip Stain in "Flame." I like the idea of wearing something lightweight and fuss free on my lips for the summer and this fits the bill. I've tried stains before but found them too sheer, terrible tasting or short-lived. However, this little lip marker is just right, the color is bright, build-able and it stays put. The product is a bit drying, but using the balm that comes with the it helps some, and moisturizing after removing seems to take care of the issue all together.
With these two products, my beauty routine is about as simple as it gets for me, which is good since I'm (happily) back to having more complicated hair!