Happy House
Nearly two years has passed since I wrote about
decorating the fish house
, and I am finally coming to love it. Sometimes, when I visit my
apartment
in Western New York, my heart aches for the wacky wallpaper and mid-century charms of that place, of my own personal style, but when I return to the fish house I feel a certain kind of pride in being able to tackle the challenge of merging interests and styles of two people, my beau and I.
This past weekend we had company which prompted me to furiously clean the house, finish decorating projects and get the house looking its best. Here's a little tour: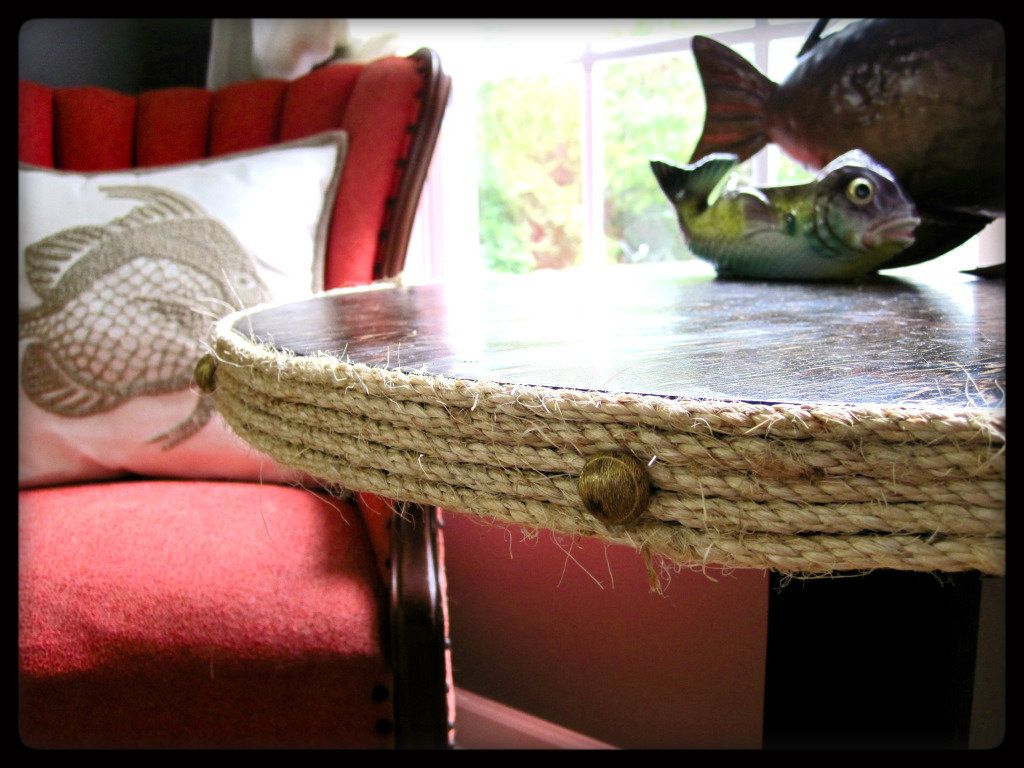 If you've been sailing along with me for a while, you might recall this
table project
from a few winters ago. I could never get the edges of the table to look quite right, so I took a glue gun, some rope and brass buttons (
etsy
) and gave this junky table a nautical makeover.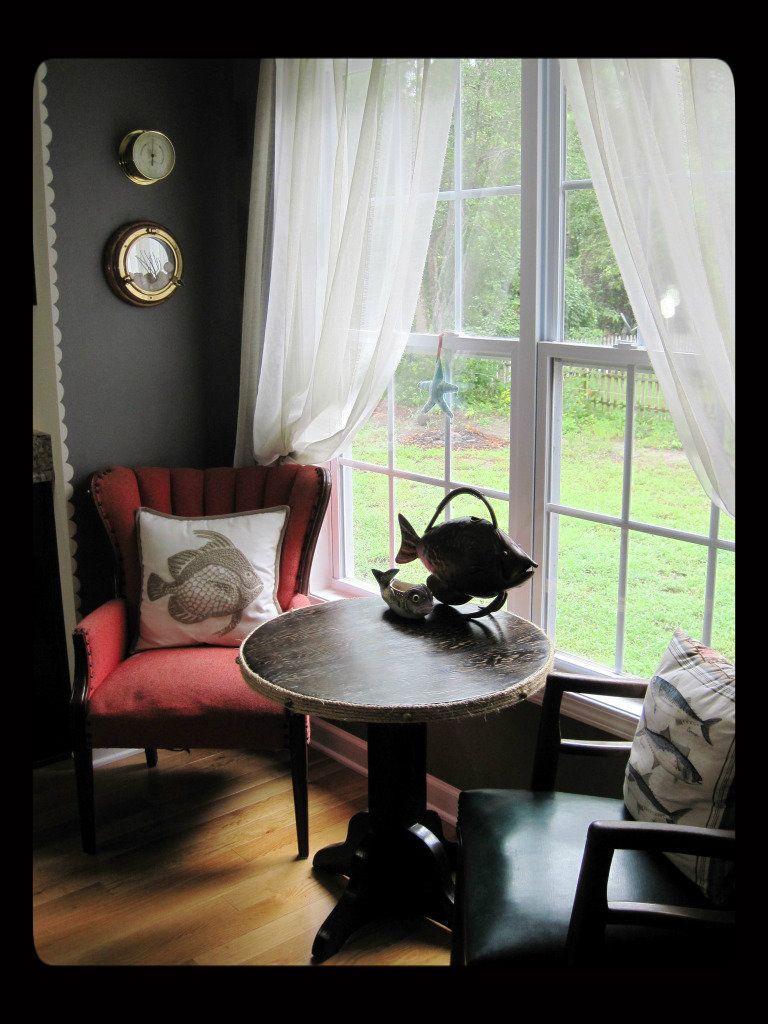 This nook is at the bottom of our staircase between the kitchen and living room and was likely intended to be a breakfast nook. For the first six months we lived here we used it as such and had a small dining table and chairs shoved in there. When my parents came for Christmas my mom and I discussed how the space just wasn't working as it was, so I dragged in some furniture from
another room
(that also wasn't working) and tada! Instantly better. The space was improved by a coat of grey paint (historic paint mind you, it's the same color as Mark Twain's house) and some billowy sheers which I sewed myself. Notice the scalloped edge I put on the corner of the nook, I can't tape off a decent straight line, so I got creative :)
On to the kitchen! Through the miracle of pinterest, and this
blog post
, I decided to turn a copper mould into a swag light for over the sink. Such a simple project and it fits right in with all my copper fish!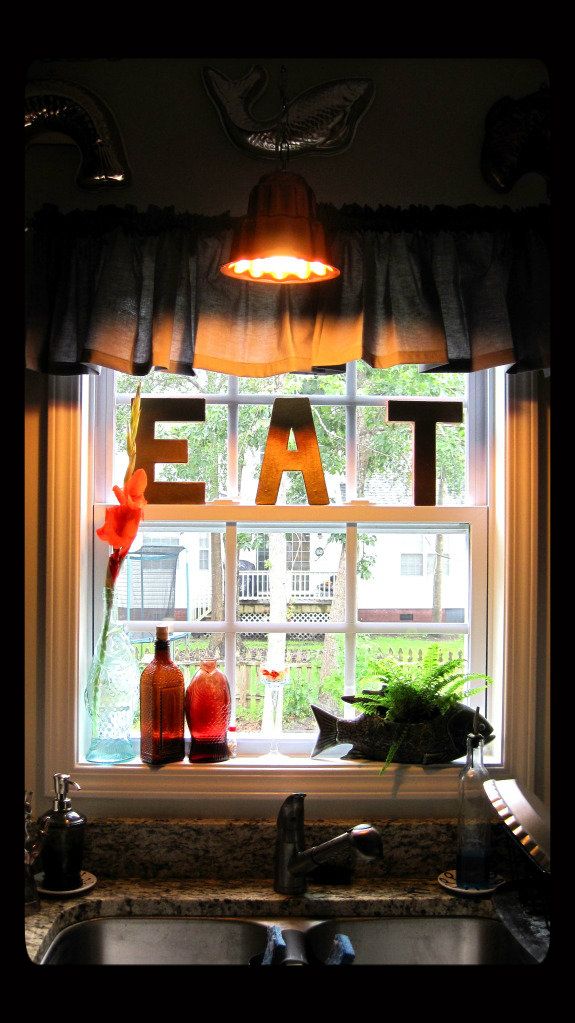 I've had these fish bottles since the founding of the fish house and they've been on this window sill in the kitchen since we moved in, but somehow moving them around a bit just made them look so much better.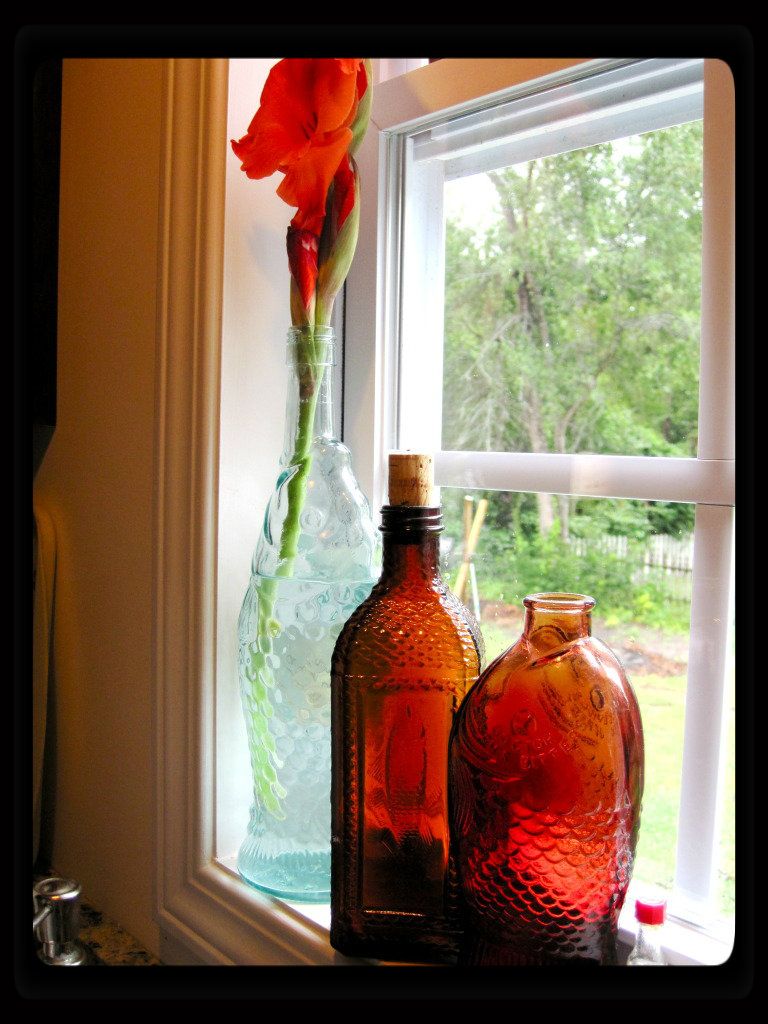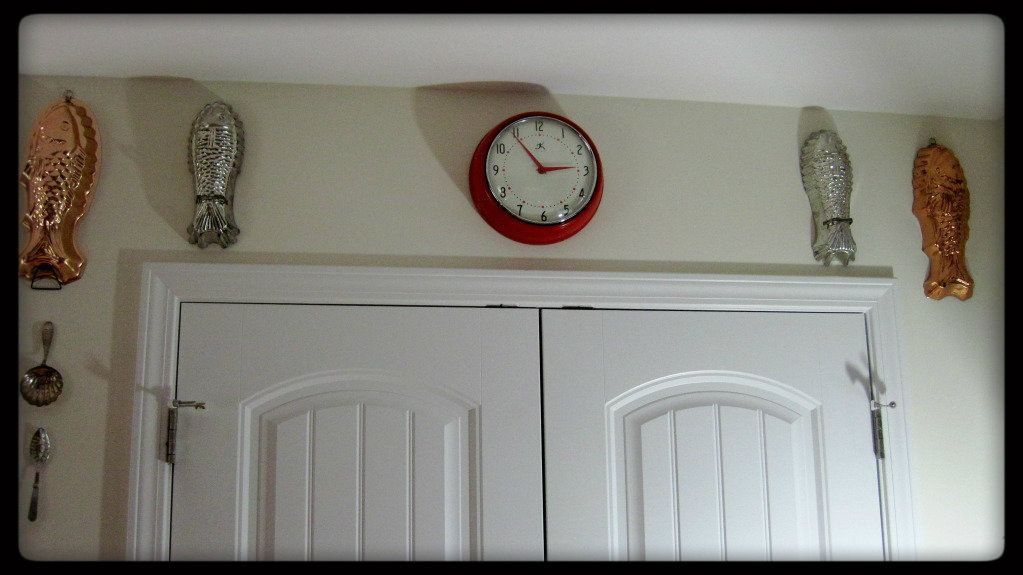 While I was back in Western New York I found this spoon in with the silver service I have at the apartment. While I couldn't fly the entire service back, I decided this spoon was too cool to leave behind. It's now hanging on the wall with an absinthe spoon and fish moulds (far left in the picture above).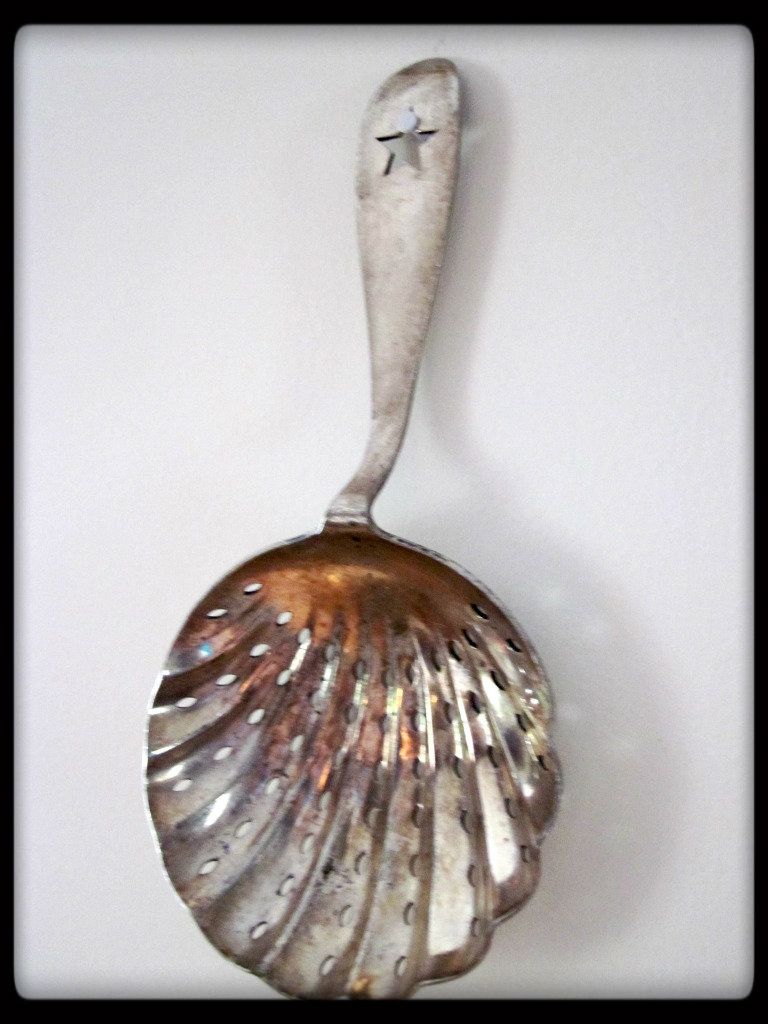 simple things like this spoon make me so happy
The dining room: I'm starting to feel better about this space, but it is taking so long for it to come together. I am quite pleased with my little cabinet/bar area though I need to fix the paint on it, it didn't cure properly. I'd also like to turn this wall into utter chaos, fill it with all sorts of seashell prints and shadow boxes. This room is also where I take most of my indoor self portraits and where
this previous project
piece is located.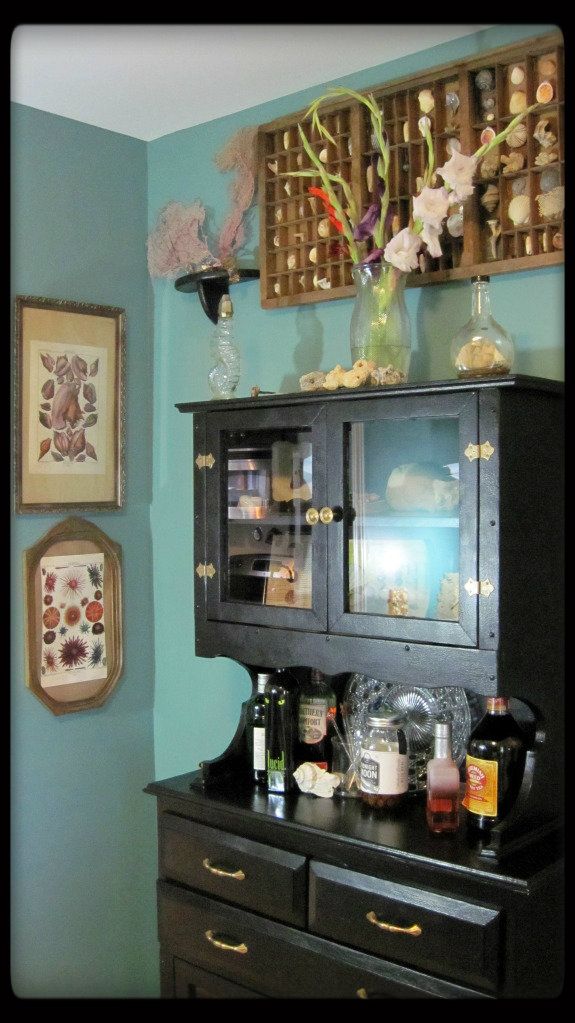 The half bath: This is my newest project which centers around this lovely old sheet music booklet, "Love's Ship."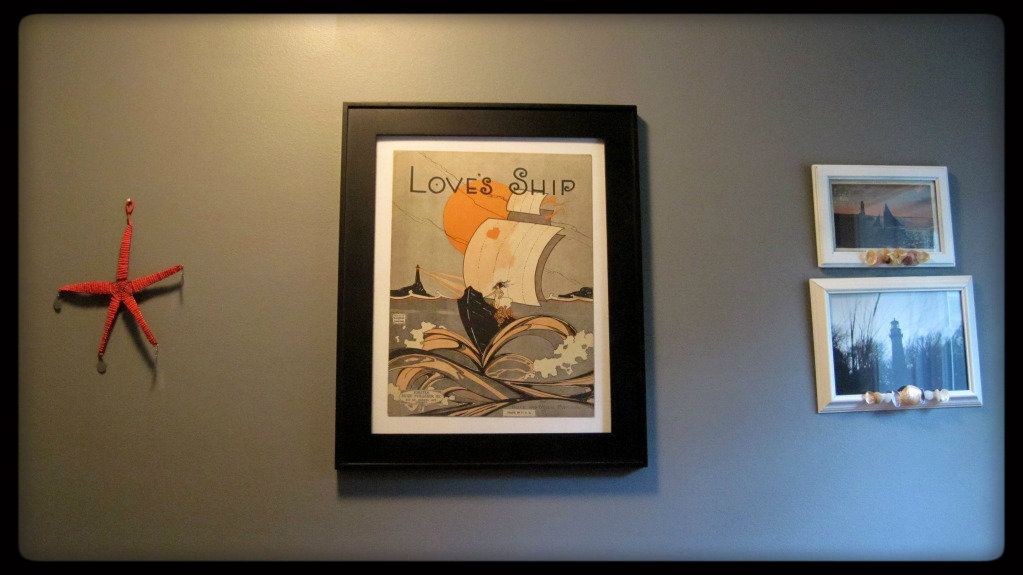 The star on the left is from Tanzania! My beau's sister is there right now! Read her incredible blog, here.
Now, let me be honest, I'm not too fond of orange or lighthouses, but oddly enough, that's what this bathroom is all about. I had some grey paint left over from the nook project, so I painted up the bathroom- the color matches the sheet music perfectly, and hung up the lighthouse items that were already in the bathroom before painting.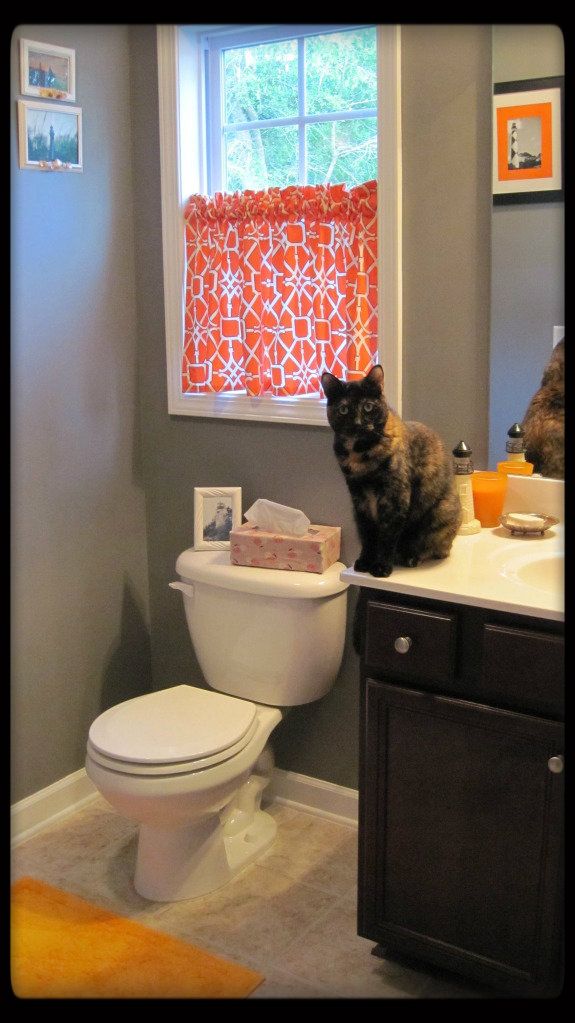 I also fell in love with this Waverly fabric on ebay and committed myself to orange. I dyed a bath mat and some hand towels to match, and made myself a tissue box cover out of some scrap vintage sack cloth to add more color to the room.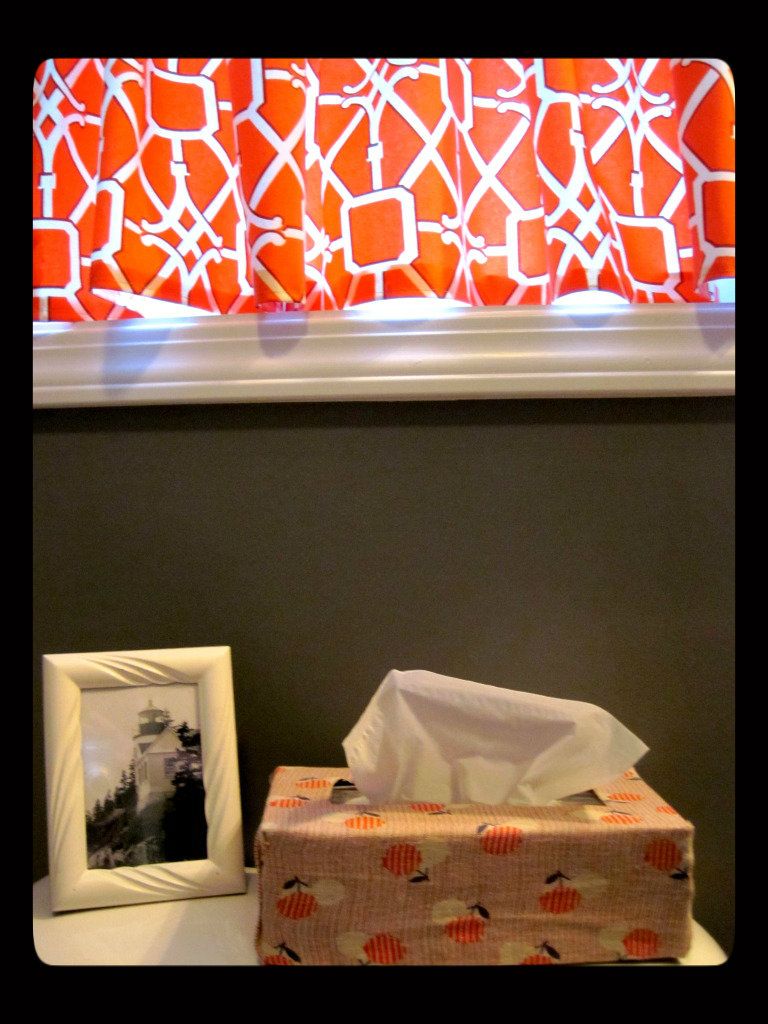 hello, Olladene. I can never be in the bathroom by myself.
The bathroom is still very much a work in progress, finding old orange lighthouses isn't that easy!
Really, it's all a work in progress and none of the spaces above will ever be really finished, I'm just happy things are starting to look and feel right! Next project, the living room...have any extra taxidermy fish laying around? I sure could use them (never thought I'd be saying that!).