Bolton's Black and Blue
So I did it, I joined the flock and I am now tweeting away on
twitter
, and, if you happened to discover this over the weekend, you probably saw a few tweets about thrift shops, flea markets and saddle shoes.
What I didn't mention on twitter, was finally wearing one of Mrs. Bolton's oddest skirts.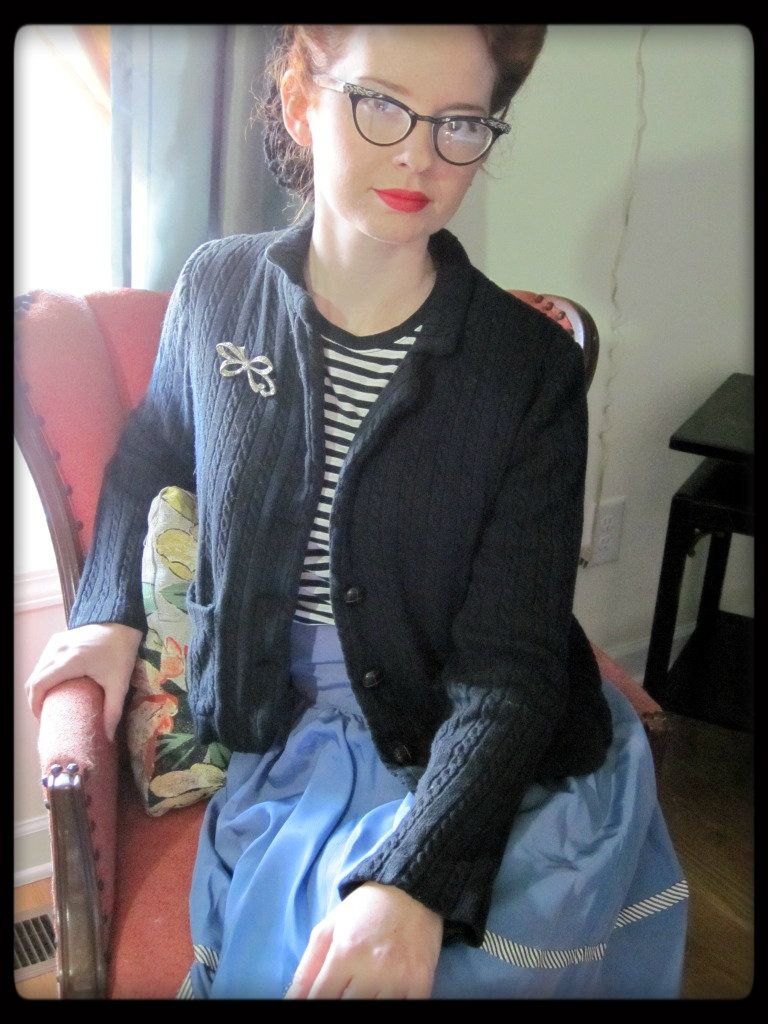 I'm not really sure this skirt has made up its mind on what it wants to be.
Periwinkle blue, sure, but black and white diagonal stripes? Teal buttons? Odd.
What attracted me to it was its high waist and fullness; someday I plan to be brave and wear a crinoline under it. What a lovely summertime skirt it could be, with a sheer white blouse and a crinoline, it'd be so sweet!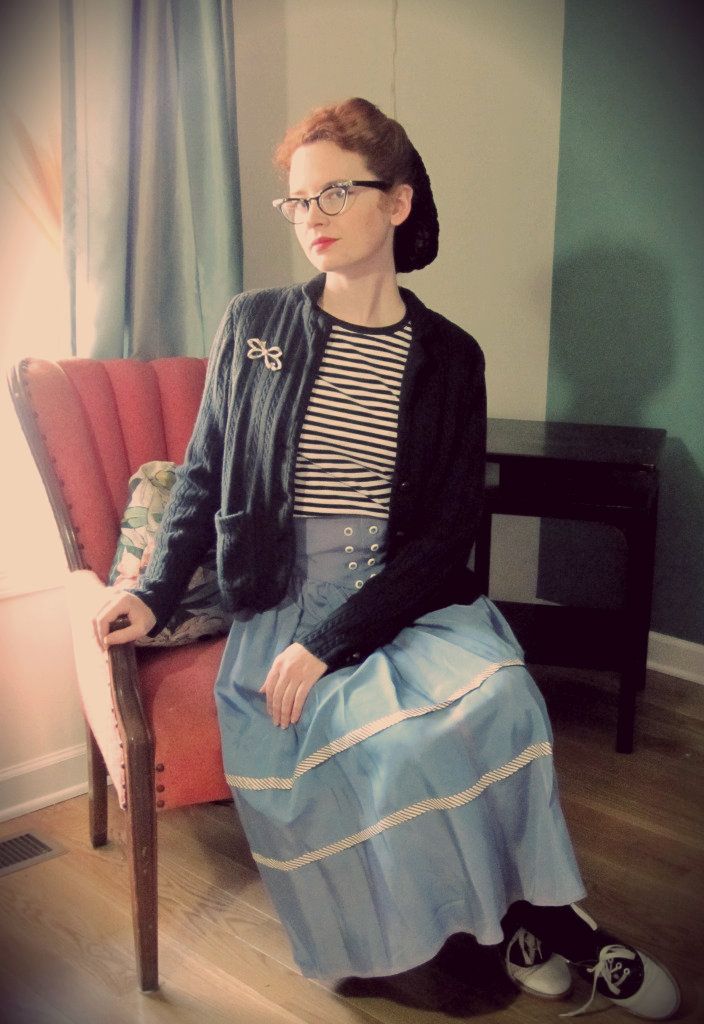 For this outfit I decided I was going to ignore the periwinkle quality together and embrace the black and white. Not sure how successful an outfit it was, but it was perfect for Saturday's adventures.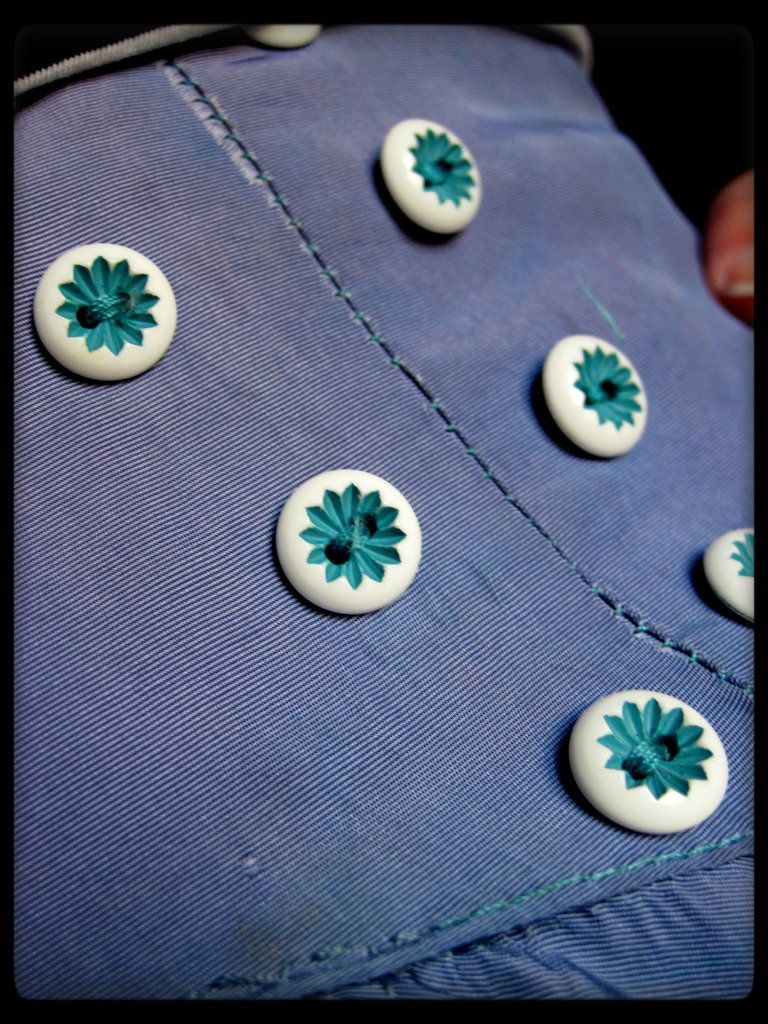 Jacket- gift (a target brand, I think)
Striped top- thrift
Skirt- Mrs. Bolton
Bow Brooch- thrift
Saturday found my beau to be a very patient man (and I a grateful woman) as we embarked on a junking mission together.
Recently there has been a random sign that reads "thrift" along the road near our house. There is no pattern to its appearance, some days it's there and some days it is not, but it piqued my interest, and my beau's. Today, as we embarked on our adventure, the sign happened to out so we followed it and found, to our surprise, a treasure-trove of vintage goodies hidden away in an odd building near a bar we frequent.
One of the most frustrating things about thrifting and flea market shopping in Eastern North Carolina is finding places that actually sell old things. More times than not, I've stopped at a "flea market" or "thrift shop" only to discover that I've walked into someone's garage sale filled with modern household goods and cheap plastic junk (think toilet brushes, scentsy and avon products).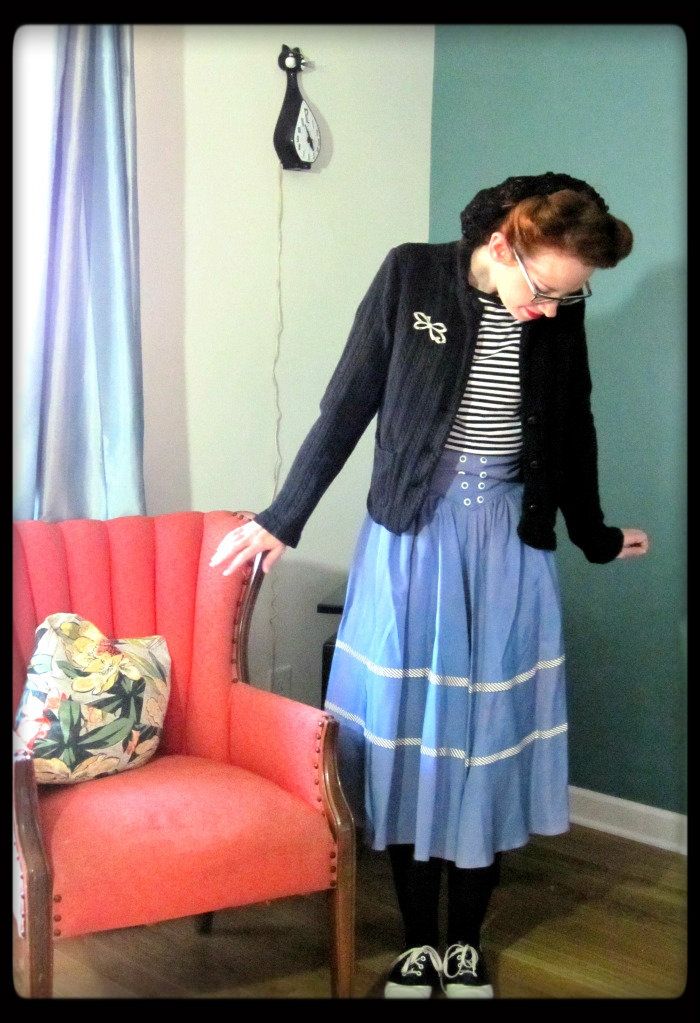 Saturday's random thrift shop was the good kind, and between my beau and I, we were able to pick out a few gems to bring home. After nearly three years together, I cannot believe that I am just discovering what an eye for things my beau has. He may be a stranger to antique stores and thrift shops, but all that time garage sale-ing as a kid, a few episodes of Antiques Roadshow and American Pickers, and he's a pro!
Needless to say, several of these goodies, and some other wonderful finds, will be making their way to my Etsy shop,
Fair Sails
, some time this week! For shop updates, blog sneak previews and random thoughts and pictures find me on twitter- @RandiFairSails
Hope you all had a wonderful weekend!
Until next time, happy sailing!