Brown on Brown
Yet another pink chair photo session before I hurried off to run some errands on Wednesday.
Having washed, but not set my hair, earlier in the day, I was trying to conceal my wild tresses when I stumbled into this improvised snood-meets-Carmen Miranda 'do. Under my scarf I am wearing a thin, round, elastic headband which I have tucked my hair, and scarf, up into.
This entire ensemble, with the exception of my spectacles, is completely modern.
Most items are department store finds.
Scarf- Debenhams, Oxford, UK
Sweaters & Slacks- Bon-Ton/ JC Penny
Belt- came with a department store skirt
Pearl earrings- Christmas present from my beau
Chocolate pearl necklace- Auction win and early birthday present from my beau
My beau knows that girls (especially this one) like pearls :)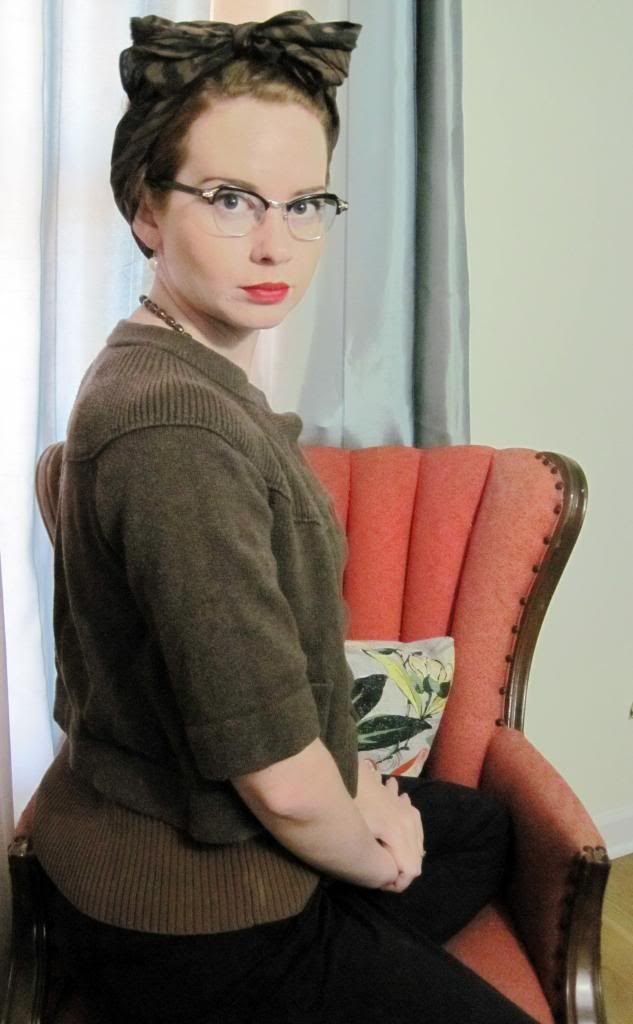 Sometimes, when I venture out, I think nothing of what I'm wearing until I return home and look in the mirror again; this is when I usually think to myself "I went out like this?!"
Of course, I generally like my outfit, I wouldn't wear it if I didn't, but sometimes I try to view myself from the perspective of a stranger, and sometimes what I see is pretty bizarre.
On Wednesday, people must have found me to be such an odd creature: clad in brown, wearing "grandma's" glasses and topped with a giant tiger print bow.
And to think, all of this "oddness" is relatively mundane, and can be found at any local department store and probably in hundreds of other women's closets.