White Dress Woe
In my first series of
wedding posts
I explored wedding dresses of the past while I pondered my own white dress. At the end of this series I most prematurely announced that I had found a suitable wedding dress and that the search was over, I even proclaimed huzzah! Well, I was a bit ahead of myself; here is the dress I bought but will
not
be wearing.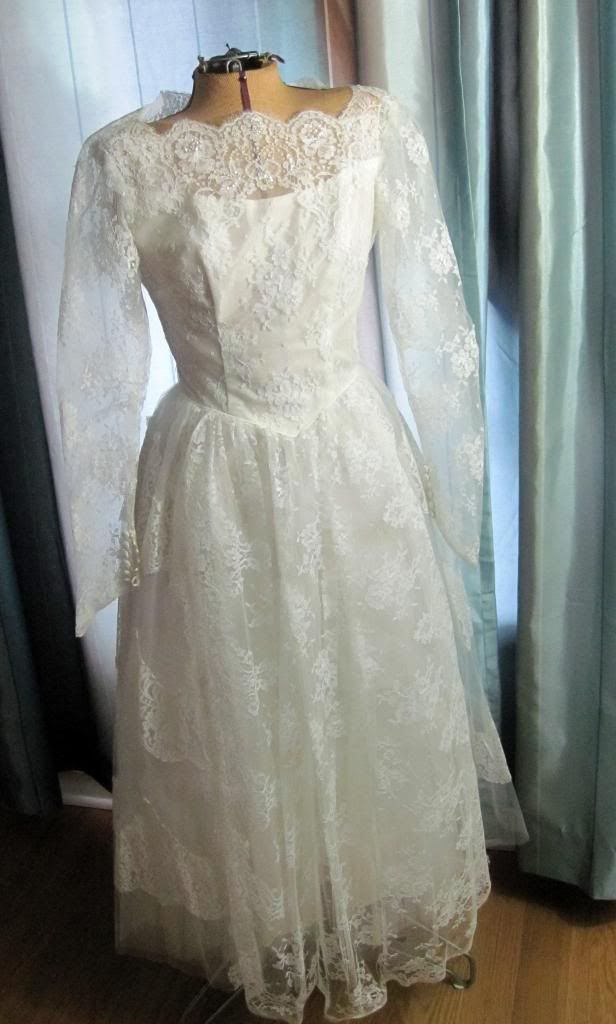 Pretty right? This authentic 1950s waltz length dress was purchased from a large
online vintage/vintage-inspired retailer
with the idea that if I didn't like it, I could return it. Well, when it first came I was swept up in wedding mania and overwhelmed by all the lace and seed pearls and thought that I was absolutely in love with this dress. A few weeks, and the return deadline, passed and I tried the dress on again and felt a little less enthusiastic about it, but was distracted by the hunt for shoes. A few more weeks went by and then a month and each time I tried it on, I was less and less sure about it. Finally, last week I tried it on and it just felt wrong; it was itchy and stiff, the basque waistline was unflattering and, thanks to my morning shortbread cookies, it was a bit too small. Worst of all, I couldn't imagine wearing it to our woodland ceremony- it was too structured, too white, too wedding-y for our very casual big day.
So, with the dress search on again, my mom was kind enough to ship me her own dress, which I showed her wearing
here
, just in case it happened to be
the
dress for me too. I have never seen her dress outside of photographs and I was struck by its simple beauty.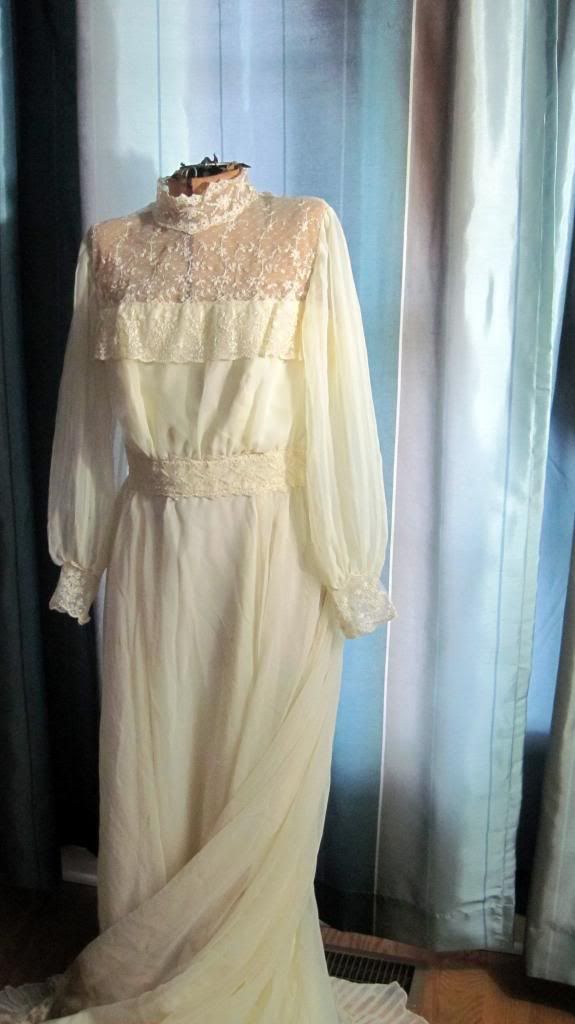 While I can actually imagine this gown in the woods, sunlight slanting through the trees, flowers in my hair.... this dress is just not me.
And so, I continued the search, this time raiding thrift and consignment stores and the few vintage shops in Wilmington. My maid of honor was even searching dress shops in WNY, sending me photographs of the 80s and 90s dresses she found. While nothing was quite right, I learned a lot about myself and dresses on my hunt, including the fact that I'm not really a fan of wedding dresses; all that thick satin, heavy beading and high prices really just turn me off. Also, I've discovered that basque waistlines and halter tops do nothing to flatter my figure.
My goal, at this point, other than finding a dress, is to not set foot into a bridal shop through this entire process. Ridiculous right, seeing that I'm going to be a bride, but I just don't want to deal with the stuffiness, the attitude, the obligation, that these shops (especially the major chain stores) are notorious for. We're not having a traditional wedding, I'm not a traditional bride, so why would I follow the traditional method of finding a gown?
Right now, as I type, another dress is headed this way thanks to Ebay; fingers crossed this is the one. As much as I like looking at pretty dresses, I just want to find one I love and move on.
It'll happen, I know it, it's just a matter of time :)
I'll be back later this week, hopefully, with a brief tutorial on the scarf 'do I sported last week in my "
Brown on Brown
" post.
Until then,
Happy Sailing