July
The beginning of last week found us winding our way south traveling back to North Carolina after tying the knot in New York. Without enough vacation time to take a honeymoon, we opted for an antiquing marathon/ 24-hour road trip.
The picture below was taken at our second stop in Berkeley Springs, West Virginia. We've driven by this antique mall on every trip between New York and North Carolina and finally took the time to stop; I'm glad we did.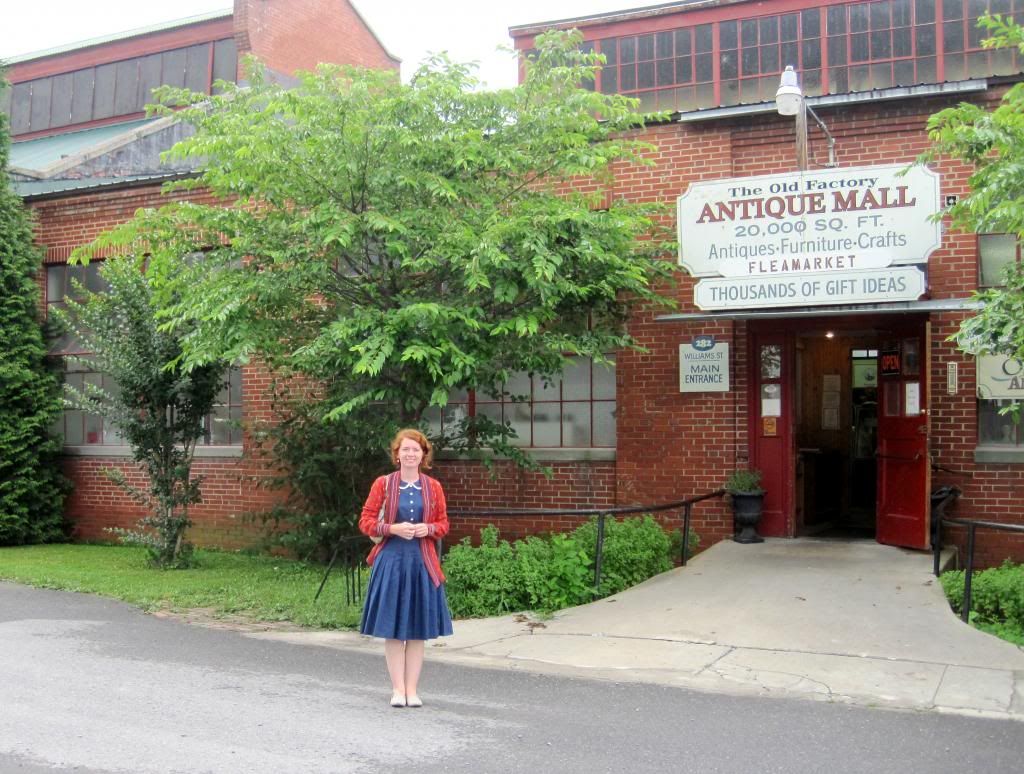 Here's where our antiquing marathon took us:
Smith's Antiques
, Summerduck, VA- Best selection of refinished antique oak furniture with refinishing on premises. Each piece of furniture had a tag with a fabulous description of its purpose or history- visiting this place was like visiting a museum! We came away with a few smalls.
Antique Village
, Mechanicsville, VA- This is where we should have spent all of our time. Most incredible selection of ephemera, amazing displays, interesting staff.... overall, a great bargain hunt!
With our car brimming with wedding presents, we could only pick up smalls on our travels, but browsing was fabulous and we did come away with some wonderful things for
Fair Sails
!
Like our road trip, the month of July, thus far, has been a complete whirlwind.
The month started with lots of time in the woods, preparing for the wedding and recalling the childhood joy of discovering Red Eft salamanders among the leaves (top right). On the sixth, we made a new memory in the woods (bottom left, more pictures to come), and gained some new jewelry for our left hands (top left).
Our return to the coast found our grafted fruit salad tree full of ripe and juicy peaches, and our home and garden were soon adorned with gifts from family and friends. I also returned with a new found urge for a change, which resulted in several inches of my hair on the bathroom floor (far right, center).
With new found inspiration, drive for change beyond a hair cut, and finally the means to follow through, I've started work on my long list of home improvement projects. Our battle scarred stairway will be the first vicim, gaining new molding, repaired drywall and a fresh coat of durable paint.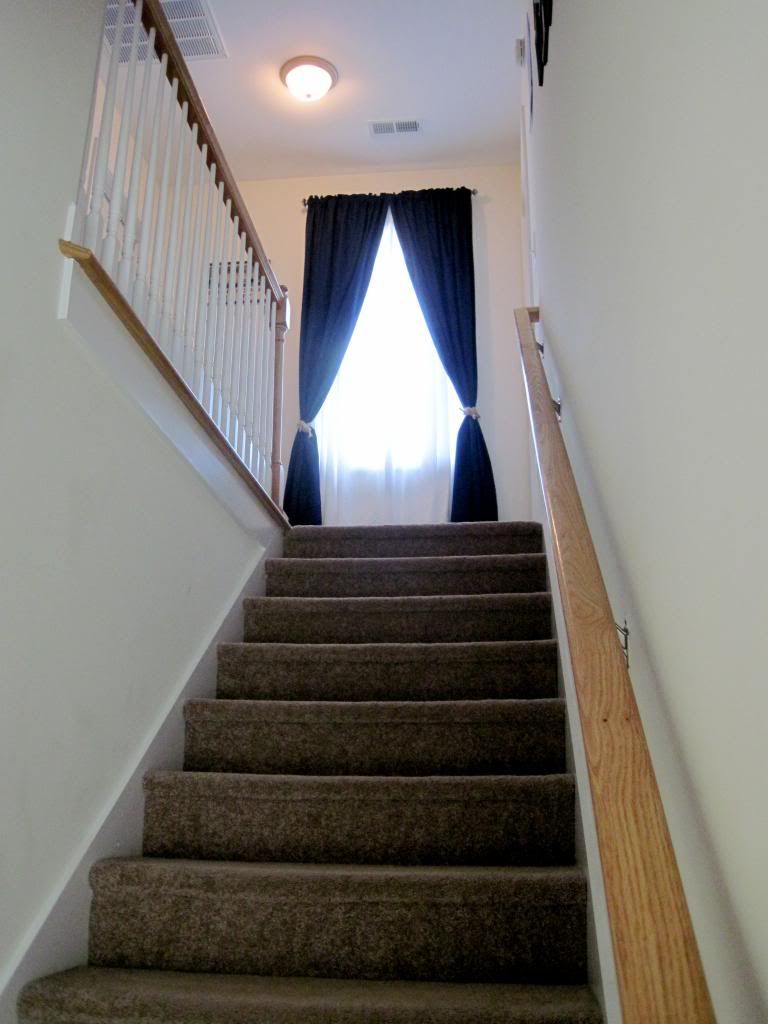 Already the top landing of the staircase has received a slight make-over with the addition of dark blue, room darkening (to block the hot afternoon sun) drapes.
Like all my projects, I didn't have a design plan when I bought the curtains and, after deciding to leave my original white sailcloth curtains beneath the new navy ones, I decided curtain tie backs were necessary, so I improvised with some rope and a hook I found in a bag of spare hardware (I had my beau husband stop off at the hardware store on his way home from work to pick up another hook just so I could finish the job).
I like this simple, sort of nautical look, and while I might style the ropes a little differently, I think I'll not only keep my improvised tie backs, but I'll let them set the tone for our upcoming stairway remodel.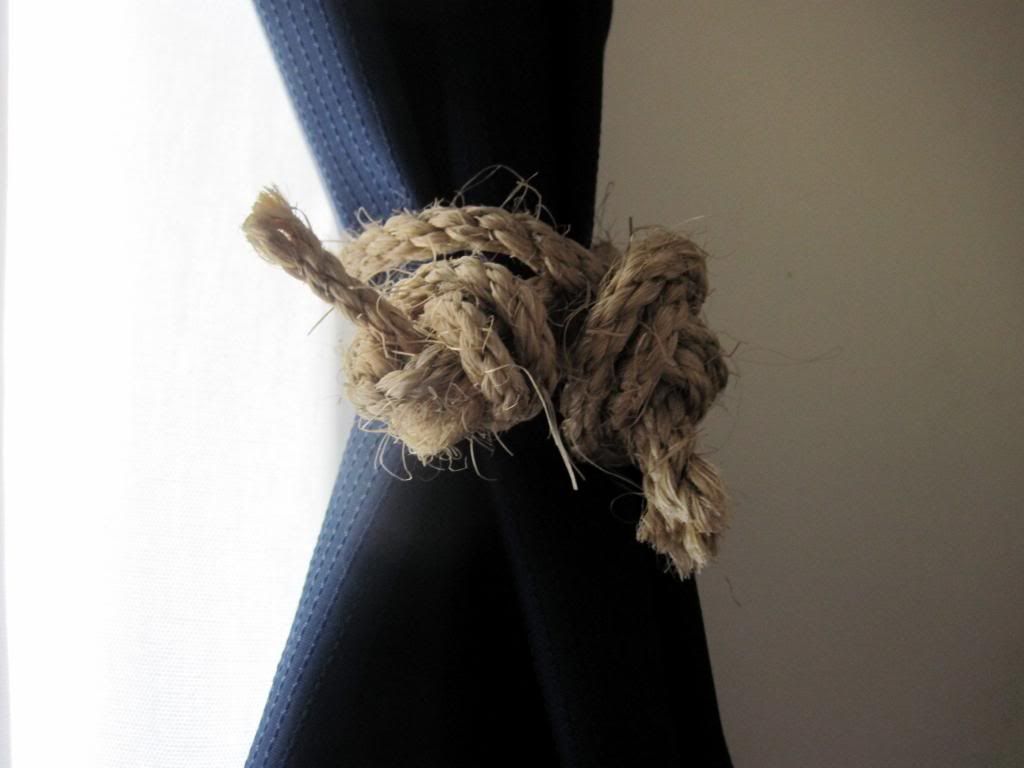 I'm looking forward to sharing the results of our home and garden projects, and my home-barbering skills as well, but most of all I cannot wait to wrap up my wedding posts and show you a few of my favorite pictures of our day.
So, until then,
x