Holiday Home Tour
It seems like just yesterday my beau and I were putting the finishing touches on our Thanksgiving dinner, and now, in the blink of an eye, here we are on the eve of Christmas Eve.
Last year I struggled and struggled with my Christmas decorations and put them back in their box after Christmas still unsatisfied with what I had come up with. This year, however, I had some assistance from my parents and I'm pretty proud of our festive decor.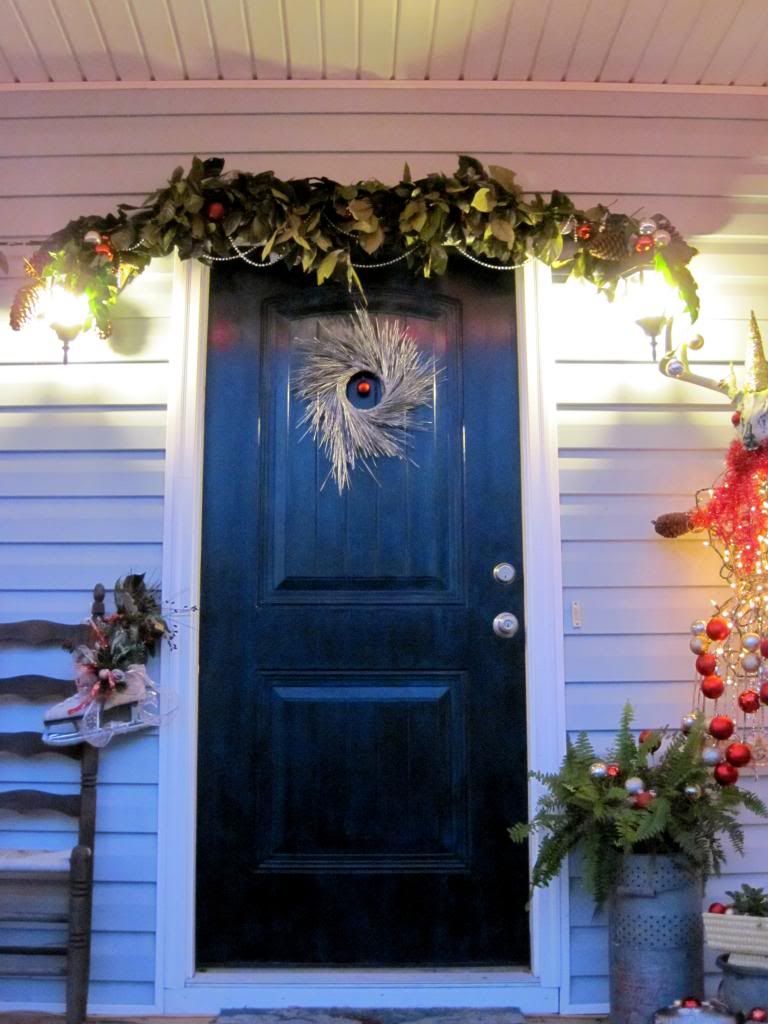 The Front Door
Neighbors must have thought my mother and I were total loons. After a day long road trip to a historic coastal town, we returned inspired by what we had seen and ready to create. With headlamps and flashlights (gosh it gets dark early this time of year) we ventured into the woods on neighboring vacant lots in the community in search of pine needles and wild magnolia trees.
With some ease, we found what we were looking for and set to our task of assembling the front door decor. Mom bound together the magnolia branches to make the garland above the door, and we both tied together the long leaf pine needles, which we later spray painted, for the wreath on the door.
our pine needle wreath
A new addition to the front porch this year is my dear deer mutant creation, Stagette. After a windstorm my metal dress form/trellis took a tumble in the garden so I brought her up to the porch for safe keeping. While carrying her, I knocked over a deer skull we had decorating the yard and, in a true light bulb moment, Stagette was born. Stagette's not for everyone, but (s)he suits my sense of humor just fine.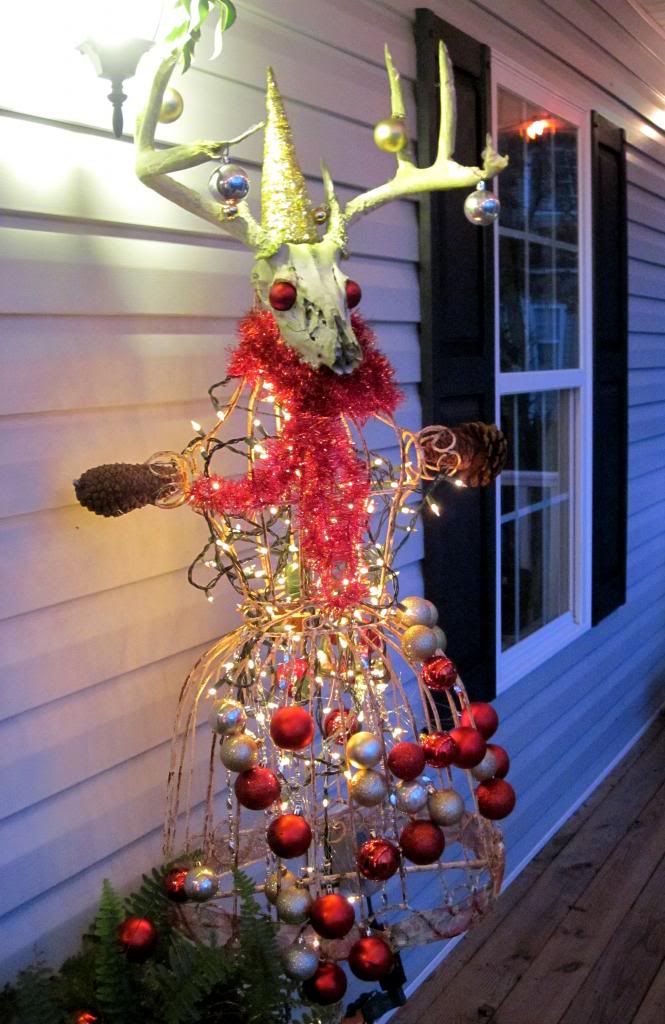 My dad took it upon himself to decorate Stagette, stealing one of my tinsel Christmas trees for her/his hat and some tinsel garland for his/her scarf. Dad was most proud of the incredibly creepy red ornament eyes, so proud that I may have to keep them year round (and perhaps attach a pair of faux eyelashes!).
More from the Porch
This year I lit my railing baskets and stuck ornaments in all of my porch plants, including the fern by the door which has been inhabited by a gnome as well. I've also filled my fish planter collection with ornaments since all things natural refuse to grow in them.
Come On In!
Inside the house, things are much the same as they are every Christmas. This year we elected to not get a real tree since last year's cypress made my beau break out in hives. Instead we just set up the aluminum tree, on a table of course, so our pup, Sam Fisher, wouldn't take it out with his very lively tail.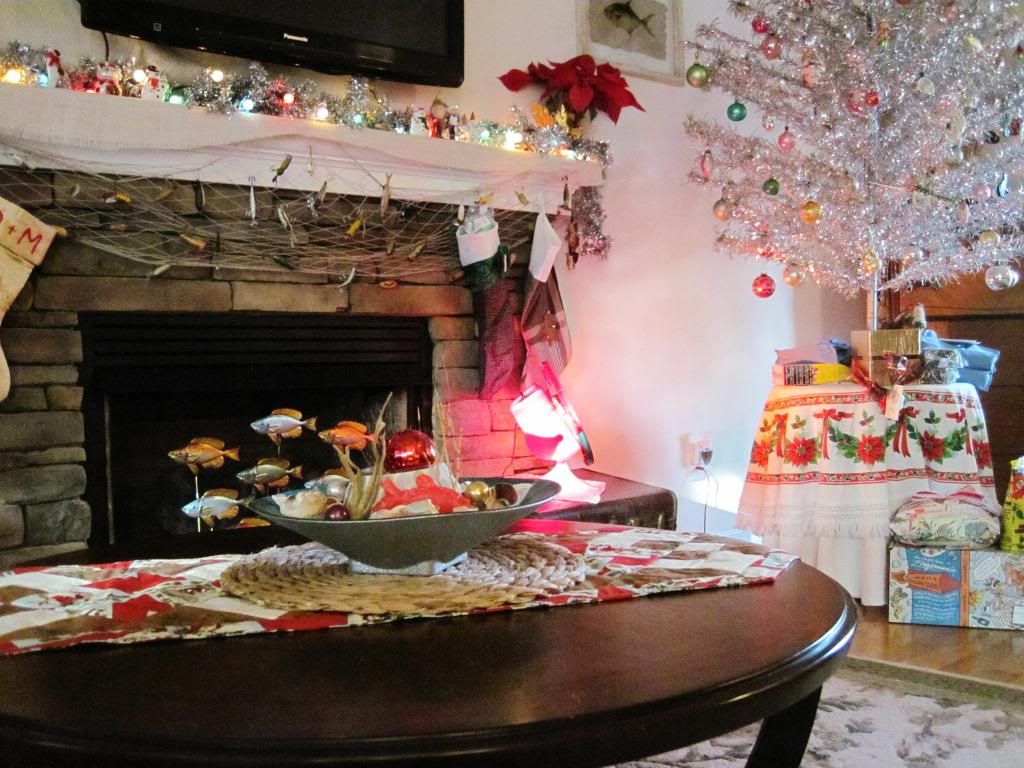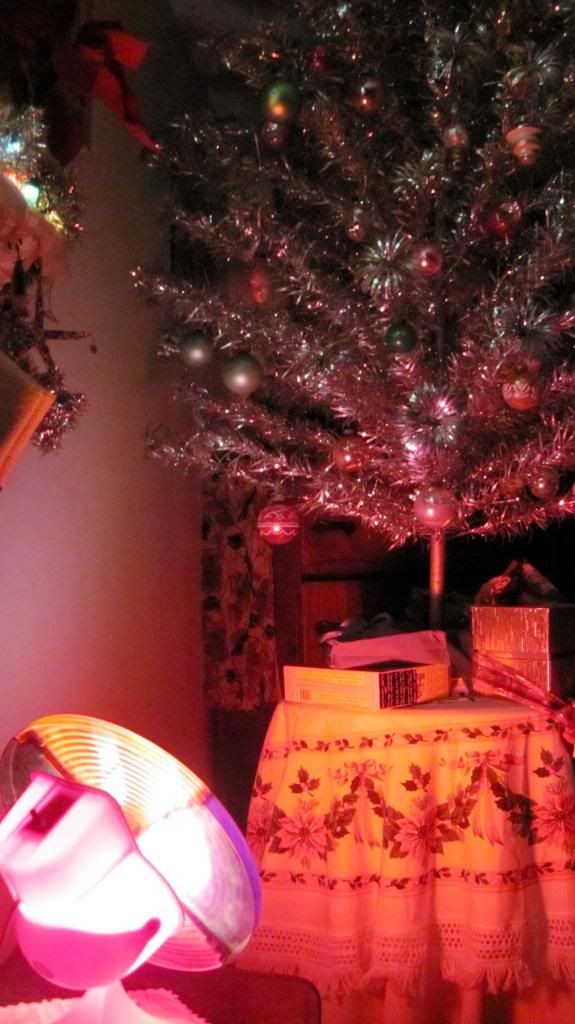 Since we only set up one tree, it was a nice mix of vintage and sea themed ornaments.
In November, my beau began talking about how much he loved his grandmother's ceramic Christmas tree, and we realized that we both were pretty fond of this bit of holiday decor. Hearing this, my mother began the search for the perfect ceramic tree, eventually finding this enormous one on Etsy. I love how it looks in our breakfast nook, and I'm excited to continue collecting these trees and displaying them in other parts of the house. Would this one look wonderful with a few little putz houses around the base?!
Also from my mom is this tree advent calendar whose little doors I have been opening since my early childhood. Each year mom would fill each day with whatever we had going on; the last day of school always had an apple, the day we got our tree had a tree, a gingerbread man for cookie making day, and so on.
It means so much that this tree is now hanging in my house and might someday, years from now, be enjoyed by my children.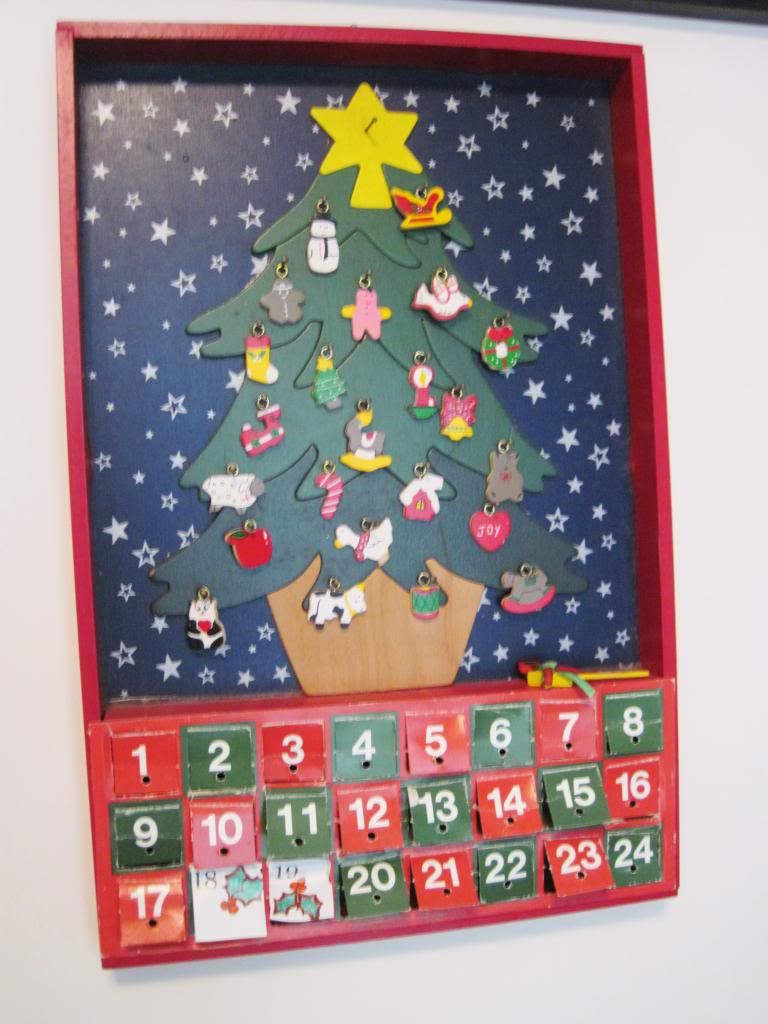 The cardboard doors have seen better days, but twenty-some years of use will do that!
The final bit of holiday decor that I'd like to share is my dress form. For most of the year, this dress form has been set up in my
Fair Sails
office but has recently been pushed out due to inventory overflow. Actually, I'm quite glad she's here in the rest of the house so I can dress her up for occasions like this!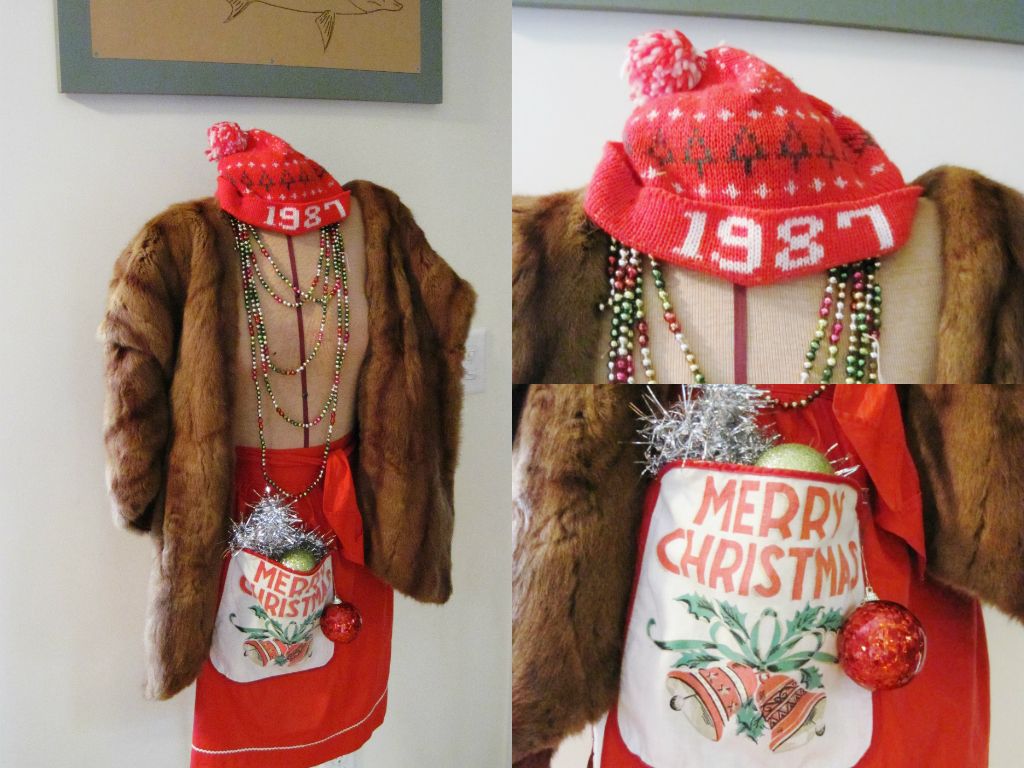 Last year I found this 1987 (my birth year) Christmas hat at a thrift shop and couldn't resist buying it for a quarter. In years past, I've used the Merry Christmas apron as a valance in the kitchen, but this year I thought it more festive worn by the dress form. The apron is reversible and says Happy New Year on the other side! The fur is from my collection and the beads are normally worn by the tree, but I thought they looked fantastic as a necklace!


Thanks so much for stopping by and taking the tour! Our house is simply bursting with Christmas cheer and I am so glad to be able to share with blogland and beyond.
I'm off to whip up some spiced
spritz cookies
and infuse the house with the sweet scents of the season. If you're looking for some cookies to make, stop over and visit
Chronically Vintage
, Jessica has a great selection of vintage cookie recipes to choose from!
I'll be back after the holiday to wrap things up before the new year... I have a good feeling about 2014!
So, from our home, to yours, wishing you the very merriest!
Happy Sailing!
x