Pendleton Strikes Again
While Sailing Over a Cardboard Sea has been pretty quiet as of late, things by the actual seaside have been pretty busy. With Thanksgiving, a visit from my parents, various Marine Corps holiday events, and my fair share of work at
Fair Sails
, I haven't made much time for my Cardboard Sea pursuits.
After attending a festive open house at my beau's commanding officer's beach side abode on Saturday, I finally managed to snap a handful of shots of what I wore. Photographs are so tough this time of year with so little daylight outside, and so little room inside (with the tree and all) it's tough to get a good shot. Also, as you can see, the pets are all pretty interested in the whole photography thing.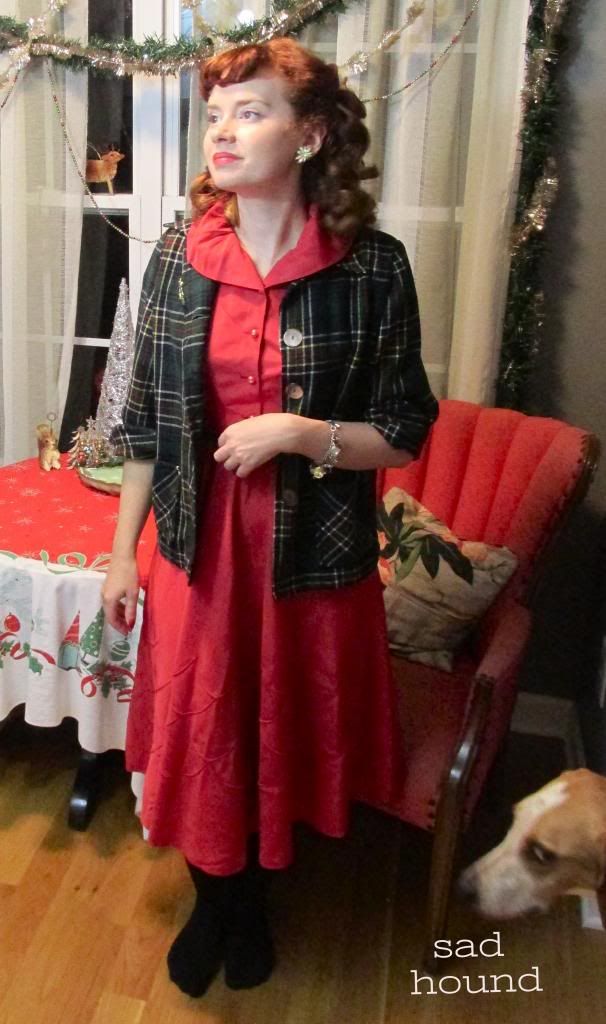 I've had this dress forever, in fact I even wrote about it
way back in 2009
when I discovered it. As I noted then, the dress is a little worse for wear in certain spots, and while I've repaired what I can, wearing a sweater over the frock makes it a little more presentable. And, this time of year, why wear a sweater when you can wear a Pendleton!

Dress- Petiteen, antique shop find. Check out the scallop detail on the skirt!



Vintage brooch- pine bough, one of my favorites. Antique store find.

Things are feeling and looking quite festive here and I'll be back soon to share some of my holiday decor; you won't believe what I've managed to do with pine needles!

So, until then,
Happy Sailing
x