Seen it All Before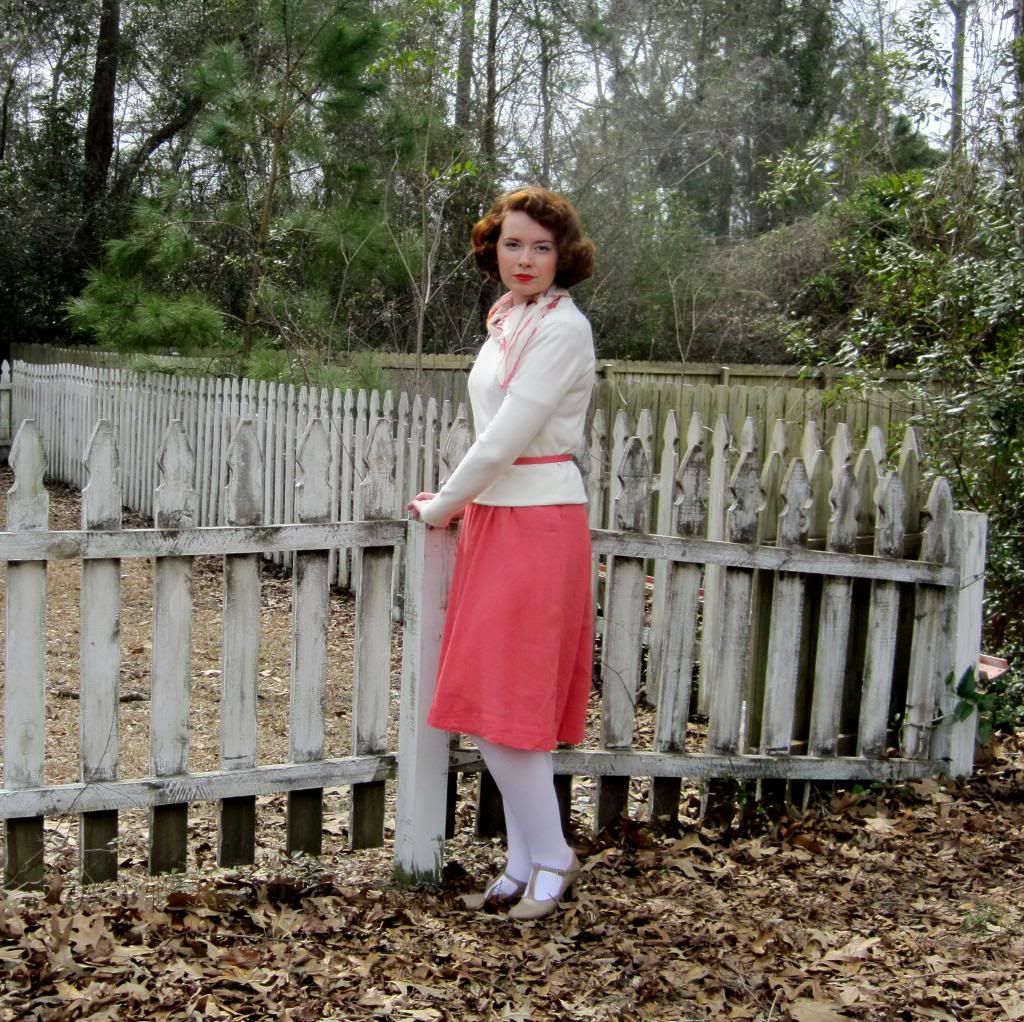 After the course of five years, nearly to the day, of outfit posts, I may have come to the point where I've run out of new and interesting clothes to photograph. While it has been ages since I've been thrift shopping for myself (since June I believe!), and my wardrobe could use a refresh, I'm in no hurry. For the time being, I'm enjoying making different combinations from the same old clothes I've been wearing and taking pictures of over the last five years.
This outfit was worn on Saturday for our usual errand running, which turned into a few drinks and a dinner out in historic downtown Wilmington. It was a sunny day, and warm enough, so I didn't bother with a jacket, opting for my favorite sweater instead.
Oh this sweater, a thrift store find (new to me circa 2007) it has popped up many times here at the sea, the most recent being in last month's
Fair Sails Friday post
. In all honesty, I'd wear this sweater everyday if I wasn't afraid I'd wear it out. Not true vintage, but oh-so-soft and with a classic cable knit design--- love it.
What appears to be a skirt here is actually a dress, which first appeared here at
the sea in 2010
, a few short months after I relocated to North Carolina. While I said then that I was a bit intimidated by the color of the dress, it has grown on me over the years and is now one of my favorites for spring and summer. I've never thought to wear a sweater over it this way, and now that I have, it opens up a world of possibilities.
My scarf showed up here around this time
last year
after which it had a tragic run in with our dog, Sam, and then required some intensive sewing and reconstruction. I managed to salvage most of it (
Mrs. Bolton
would be proud) and it has lived to see the light of day, and the camera, once again. I love it for springtime as it has a lovely floral pattern, and it was particularly helpful with this outfit in making the sweater-over-dress combination look less awkward at the neckline.
I'm not sure where, but I'm quite certain the belt (a last summer thrift find) has made an appearance here before (quite amazed at how well it matches the dress) and I know my butterfly brooch, a
desert prize
from my beau, has landed here once or twice before as well.
The stockings and shoes? Same combo I've been wearing a lot
lately
-- what can I say, it works!
Yes, it was a simple outfit made from pieces that have been seen a lot here at the sea, but it was the perfect get-up for a beautiful early spring day.
Happy Sailing
x