Gramma's Pearls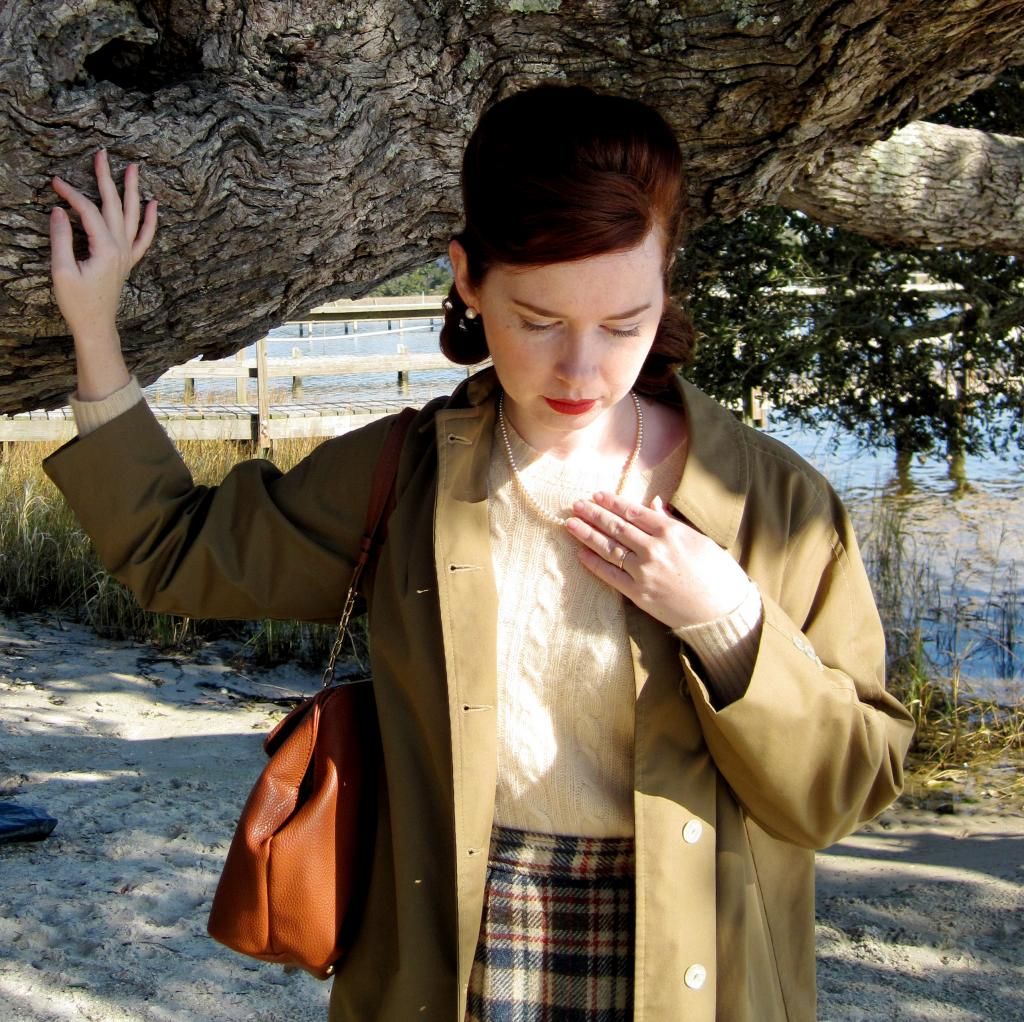 On the morning of January 11th, I restrung the string of glass pearls that I wore (and broke) on my
wedding day
, the pearls my grandmother,
Evey
, had given to me. On that morning, Gramma was on my mind; hours earlier, she had passed away.
After a long struggle with smoking related illness and, more recently, the pain and disorientation of not being able to get enough oxygen, Gramma slipped away while sleeping, not in a hospital or nursing home, but at home and in her favorite chair. I think of her, alone in the dark, with Pa (her husband of nearly 60 years) sleeping soundly in the next room, and hope that her final moments, moments she had thought on with such dread and anxiety, were painless.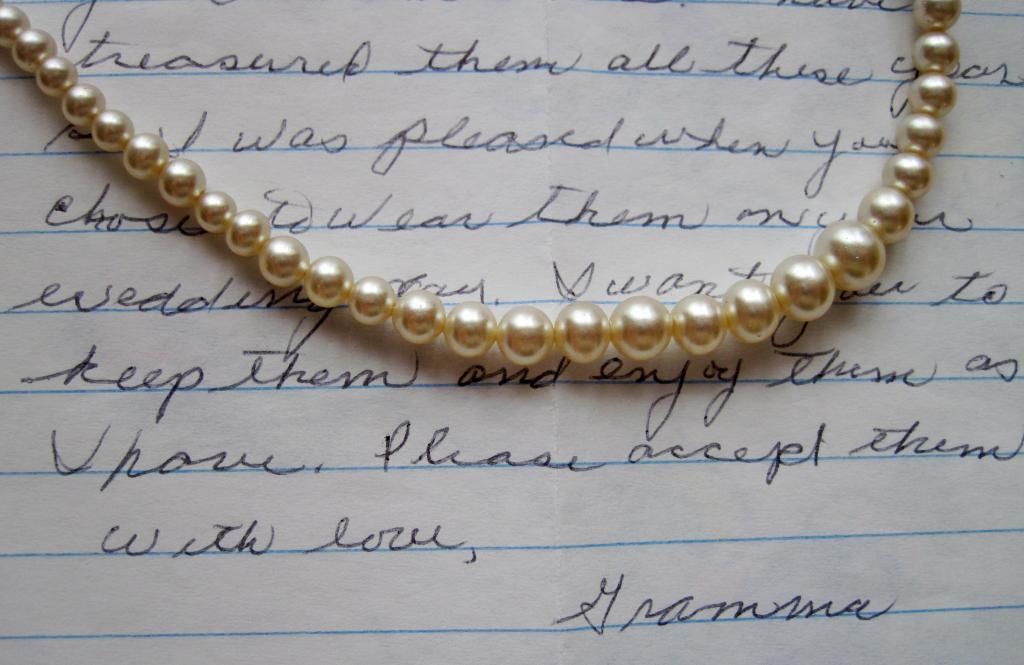 In the days since her passing, I've given much thought to my time with her while trying to keep my mind from that dark place of guilt and shame for not visiting more, not calling, not showing her how much I appreciated her and for not being there at the end. My mind skims over holidays, vacations, and afternoon visits to Gramma's: time spent with my hand in a cookie jar, playing pool, exploring her spooky sprawling house, or rummaging through her craft room.
There's one recent memory that I've polished in my mind, a bright moment in time that I see now how lucky I was to share with my grandmother and that this picture, below, illustrates so perfectly.
As I attached the corsage to Gramma's blouse on my
wedding day,
Gramma shared the story of her pearls with me and helped me calm my pre-ceremony jitters. We held hands and chatted, I, kneeling down in my fluffy white dress in front of her, and she as comfortable as she could be in the heat.
Gramma made it to all but four of her ten grandchildren's weddings, and as many birthdays and holidays and baby showers as she possibly could. Just shy of celebrating her sixtieth wedding anniversary in February, and her eighty-third birthday in November, she lived a long life that, even after her passing, I'm still learning so much about.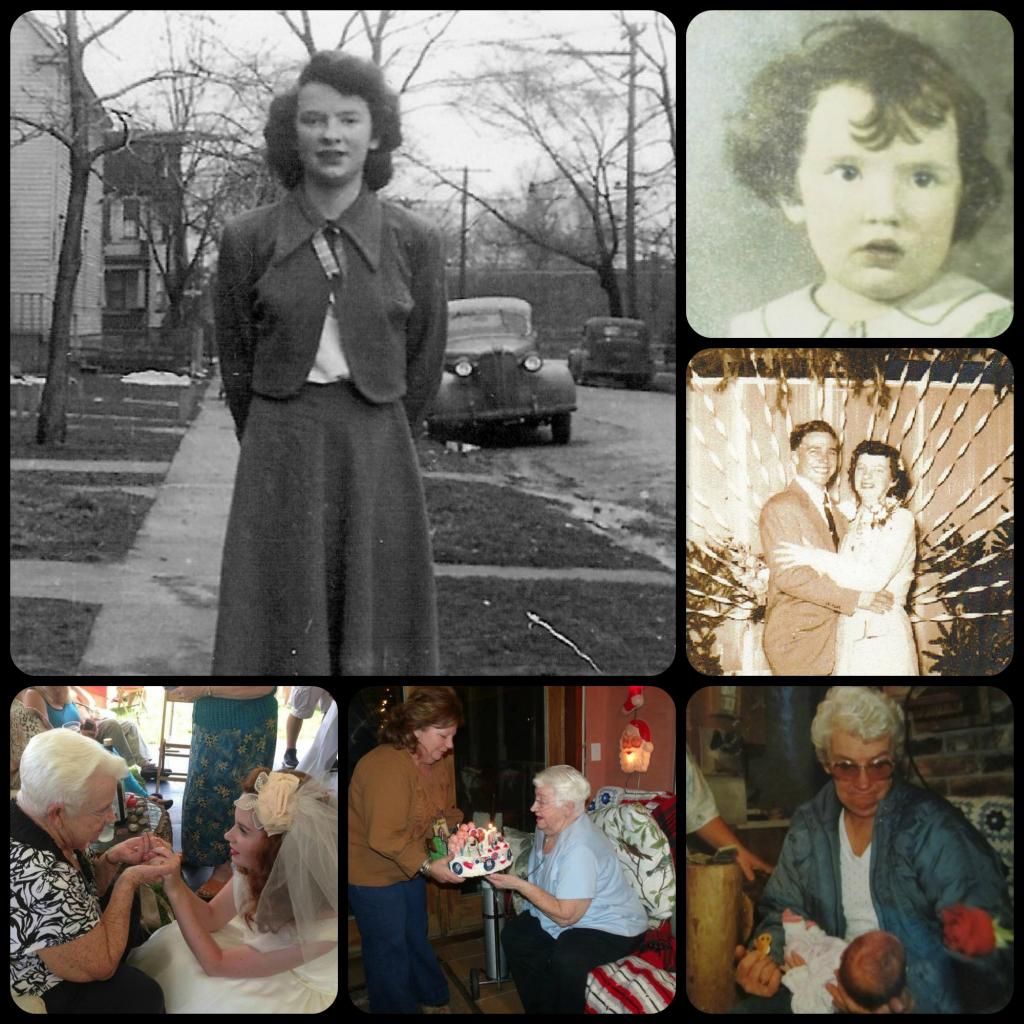 Gramma through the years (that's baby me that she's holding!)
As my grandfather adjusts to his new life as a widower, new stories have surfaced about his life, his marriage, and Gramma. One of Pa's new old stories describes Gramma climbing over another woman to sit next to him in the car (and that was before they were even going together!) and reveals so much about what kind of a woman she was. I can't wait to hear more of Pa's stories.
...
This seemed like a good time to resurrect the old home movies that captured life in the 60s for my mom's family, so I took a film movie that had previously been converted to VHS, then to DVD, and brought it to the internet for family far and wide to enjoy.
While Gramma was primarily behind the camera, I love this shot of her, around seventeen minutes into the film, holding a stringer of fish with a friend. Having had white hair for as long as I can remember, I love seeing this Gramma staring at me from across the decades, smiling and looking like we could be sisters. I have her nose, her hair, and now her pearls, and with this love of books she has passed down through the generations, perhaps someday I'll develop her sharp wit.
My cousins and I have made a place for Gramma on our charm bracelets. On my bracelet she has found a home nestled safely next to my bookworm charm, a fitting place for such an avid reader.
I'm not a believer in heaven or any sort of great beyond, but it's a nice thought to imagine her peaceful and comfortable somewhere, sitting in her chair and starting the next chapter of a good book.