Salt Marsh Seersucker


There is a fascinating balance to a salt marsh. It exists, sometimes, as a boggy meadow, home to tiny waving fiddler crabs, snails and hungry herons, and other times as grassy, brackish shallows: a refuge for small fish and a buffet for those who mean to make a meal of them.
The tide comes in and fish feed, the tide goes out, and the crabs get to work gobbling up whoever got left behind.
Balance.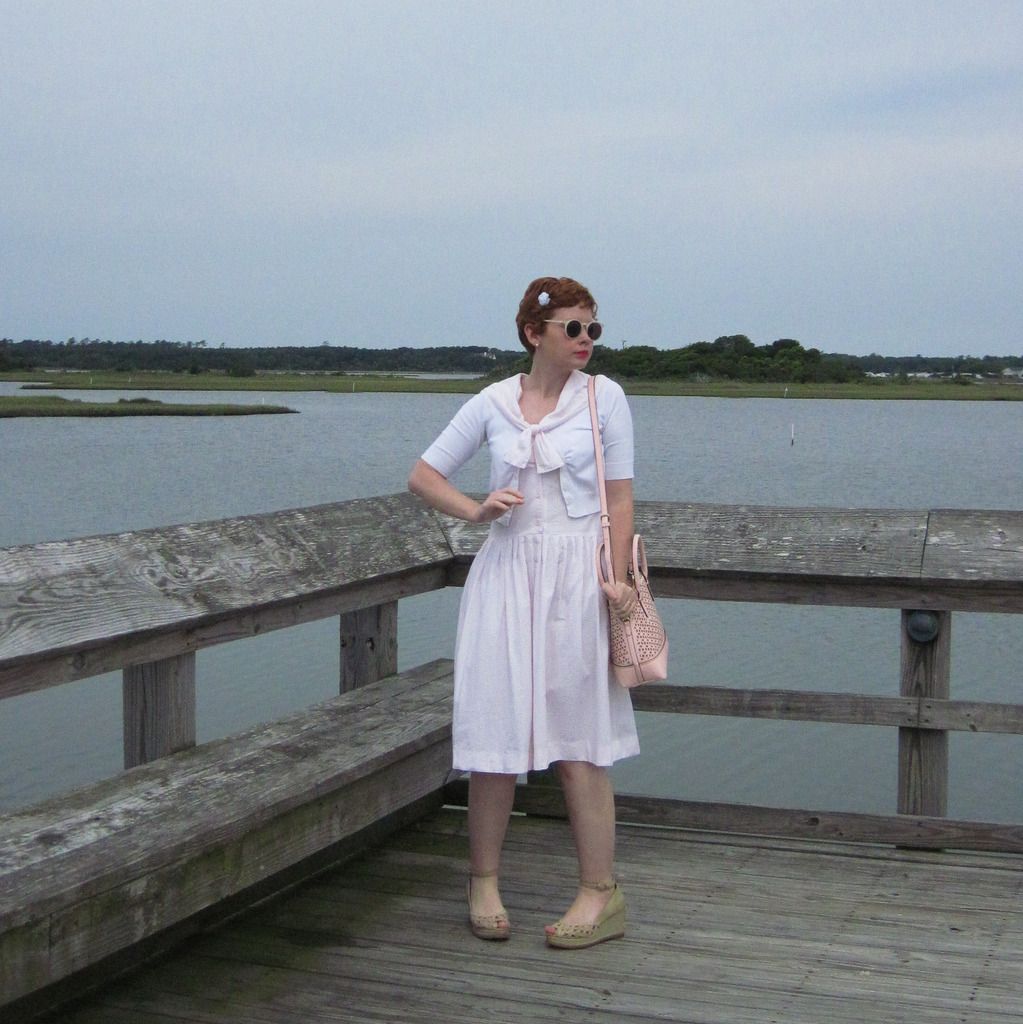 Balance is something I am quite often lacking.
While in the heat of the moment, I prescribe to the notion that you can never have to much of a good thing, while in retrospect I cling to the idea of "everything in moderation."
At the moment, I'm struggling to strike a balance between my ever aging exterior (thirty looms large on the horizon) and my personal style. After spending the first half of my twenties dressing like an old lady, and the second half dressing like a little girl (trying to reclaim my youth?), I am at sea, if you will, when it comes to fashion.
While sometimes there's a glimpse of that harmony I'm chasing (such as my in my
last post
), other times things just don't work. And, after looking at myself, standing here on the salt marsh dock in a pink seersucker dress with a pink handbag and a flower in my hair, I can't help but think that this is one of those times discord.
Of course, I do like this outfit, I wouldn't wear it if I didn't, but it just doesn't feel like an authentic representation of myself. I've missed the mark-- it's not the sprightly, youthful, slightly sophisticated seaside ensemble I had hoped for, it has come up childish and juvenile-- it feels a bit like my mother dressed me.
Lately, I've been digging through my closet, thinking "is this really something a 28 year old should wear?" (which is an entirely silly question because there's no set age limit on fashions, except, of course, the ones I set for myself).
I suppose the question I am actually asking is, what's next for me? After nearly a decade spent enamored with and immersed in the fashion of days gone by, and before that, lots of time spent wearing black, it feels as if it is time for a bit of a refresh to restore the balance between my interior and exterior "self."
I'm not quite sure what my "interior self" would wear, but I sure do know what she wouldn't. After the great purge of Spring 2015, my closet is much emptier, free from cheap impulse buys and pieces that I've been hanging on to (but rarely wearing) for the last decade and a half.
What I will select to fill my closet with again remains to be seen, but for now I'm enjoying what remains and hoping that it provides me with the inspiration and direction I need to strike that balance I've been so desperately seeking.
dreaming of a more harmonious wardrobe
Outfit Details
Dress-- thrifted (90's chic)
Cardigan-- Maurices
Shoes-- Miz Mooz
Purse-- Target
Sunglasses-- Forever21